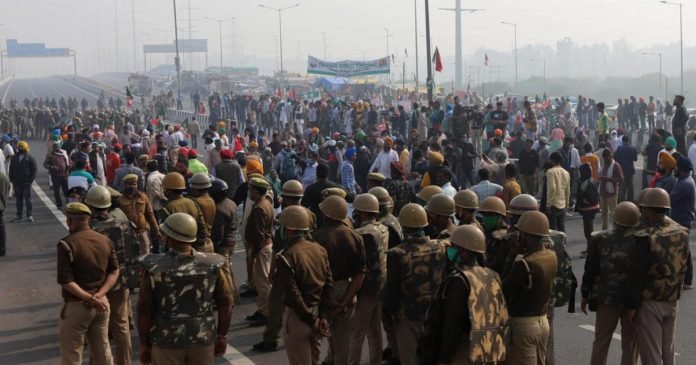 Farmer protests: Union agricultural minister Narendra Singh Tomer decided to speak to the protestants as well as the media.
The trending farmer agitation on new agricultural legislation gone global when Canadian PM Justin Trudeau expressed his concern on the farmer's protest after stating to the netizens that "Canadian government will support the nonviolent protest the rebukes in no time were globalized. Perceiving the danger of international politics over Indian farmers and the involvement of opposition parties backing the farmer protest to throw down the government in every aspect. After raising continuous demand by farmers on taking the controversial three Farm law on minimum support price (MSP) back and to escalate the protest while jamming Delhi- Jaipur expressway the Delhi armed forces are geared up in Gurugram. 
Farmer protests Live Updates
The Indian government said that The farm legislation will not be rolled but amendments can be made if needed. After raising continuous demands on abolishing the new agricultural law. After rejecting governments' proposals," the president of krantikari Kisan union,  Darshan Pal after having a meeting with more than 30 farmer unions. Pal stated that the farmers are relentless over the hyped legislation. The government of India suggested Union minister Narendra Singh Tomer have words with the Farm leaders to quit the protest and ask them to comprehend that this law is going to benefit them in every certain way.
The union minister Narendra Singh Tomer is ready to make an appeal to the protestants to end the protest and collaborate with the government. Meanwhile, the Indian government is doing every bit to end this protest and urging farmer leaders as well as farmers to get back to their work. Farmers being adamant on their demands are not going to stop the protest as they are clearly not happy with the Law hindering the actions of the Indian government to get back on track. For daily updates, you can visit www.indiatimelines.com.