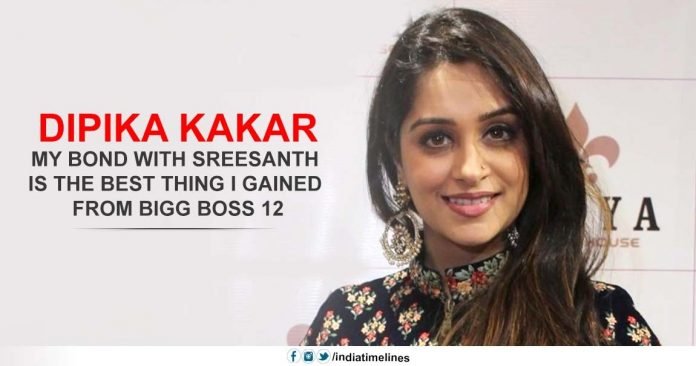 Bigg Boss 12 Winner Dipika Kakar:- Bigg Boss 12 winner was finally announced. Interestingly, the competition in Top 2 was between Dipika Kakar and Sreesanth. Deepika has become a winner and is a runner-up of Sreesanth.
Bigg Boss 12 Winner Dipika Kakar
The announcement of the Bigg Boss 12 winner is over and the Big Boss Season 12 trophies have got it entitled. So far the fans were waiting for who would win the Big Boss. On Sunday, Deepika Kakkar was selected the winner in Grand Finale. Deepika had participated in the show as a Celebrity Contestant and after 15 weeks of success, she finally became the winner of the show. Interestingly, his rivalry in Winner's race was from his best friend Sreesanth. Runners-up in Sreesanth shows.
Deepika Kakkar, Sreesanth, Rumil Chaudhary, Deepak Thakur, and Karanveer Bohra reached the Top 5 in Big Boss Grand Finale. However, at the beginning of the Finale, Karanveer Bohra was Eliminated After this Rumi Chaudhary was out of the top two race. The Big Boss offered to the remaining survivors under the tremendous twist in Finale that they could take a part of the sum of the money home with them. Instead, they will be out of the race of victory. Deepak Thakur decided to go home with money.
After being out of the lamp, the direct competition for the Victory was between the brothers and sisters of the house ie Deepika Kakkar and Sreesanth in the colorful finale, Salman Khan announced Deepika as the winner.
Prior to the Big Boss, Deepika was seen as a serial in the 'In-laws' Simar Ka Serial. A few days before the show began, Deepika was married to Shoaib Ibrahim. Deepika appeared in the show several times to miss Shoaib. Deepika and Sreesanth got good bonding in the show. The dear brother and sister of both of them loved the fans very much. There were also many emotional moments between Deepika and Sreesanth throughout the season. Finally, having a fight between the two to win was also very interesting for the fans.