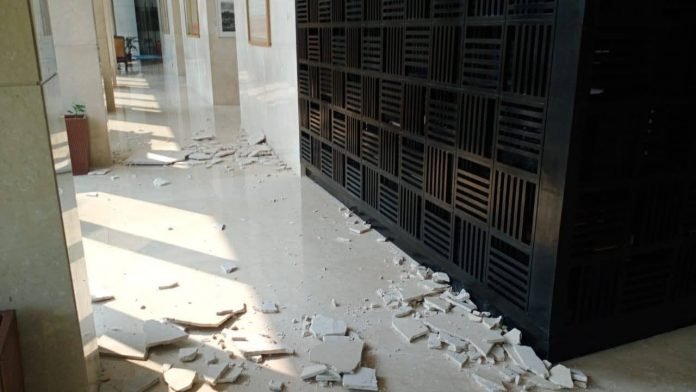 Earthquake: Late night again shaken earth in Assam, six tremors felt – Earthquake tremors have been felt again late in Sonitpur in Assam. After 12 pm, quake tremors were felt one after the other six times. Earthquakes on the Richter scale were 4.6, 2.7, 2.3 and 2.7. Earthquakes occurred here at 12:24 pm, 1:10 pm, 120 pm, 1:41 pm, 1:52 and 2:38 pm. The National Center for Seismology has confirmed the earthquake.
Tremors in the morning too
The tremors were felt in Guwahati, Assam on Wednesday (April 28) morning. Earthquake tremors also occurred in Tezpur and Sonitpur. The earthquake measured 6.4 magnitudes on the Richter scale. During this time, people came out of the houses in panic and there was chaos.
Tremors occurred in many areas including Guwahati
According to information received from the National Center for Seismology, the tremors were felt at 7:51 am. During this time, 6.4 Magnitude intensity was recorded in Sonitpur. Earthquake shocks occurred in Guwahati and Tezpur as well. Panic spread among people as soon as the information was received about the earthquake. They came out of their respective homes. At the same time, there was chaos for a long time.
Collapsed walls in many places, heavy damage
Walls in many areas collapsed due to the strong tremors of the earthquake. At the same time, the trees also collapsed in many places. It was also reported that there was a lot of damage due to the earthquake. Apart from this, earthquake tremors were also reported in some areas of North Bengal and Bihar.
The earthquake also occurred many times on Wednesday
Earlier on Wednesday, earthquake tremors were felt in Assam many times. These shocks caused damage to buildings in many places. Apart from this, 10 people were also injured in four districts of Assam. According to the authority, the first earthquake of 6.4 magnitudes occurred in Tezpur, the headquarters of Assam's Sonitpur district, at 7.51 am on Wednesday morning. Earthquake tremors were also felt throughout the Northeast region and parts of West Bengal, Bhutan and Bangladesh.
Regional Meteorological Center (RMC) Deputy Director Sanjay O'Neil Shaw said that there were earthquakes of magnitude 4.7, 4 and 3.6 at 8.44 in the morning, eight o'clock at 13, eight at 25, eight at 44. The tremors were felt. He said that a tremor of 3.2 magnitude earthquake was felt in the Nagaon district of the state at 10.5 am and another tremor of 3.4 magnitude quake was felt in Tezpur shortly after 10.39 am. Shaw said that a 2.9 magnitude earthquake struck Morigaon at 12.32 pm. After that, three more tremors occurred in the Sonitpur district.
PM Modi knows his condition
After the earthquake in Assam, PM Narendra Modi telephoned Chief Minister Sarbananda Sonowal twice and assured all necessary help from the Center. After this, Sonowal visited nearby areas in Dhekiajuli and the Sonitpur district near the epicentre of the earthquake. There are reports of widespread damage to buildings and other structures in Assam, mainly in the central and western cities of Tezpur, Nagaon, Guwahati, Mangaldoi, Dhekiajuli and Morigaon. ASDMA said, "Many private and government buildings have developed cracks. But there are no reports of serious damage such as buildings collapsing or any major infrastructure being disrupted. "