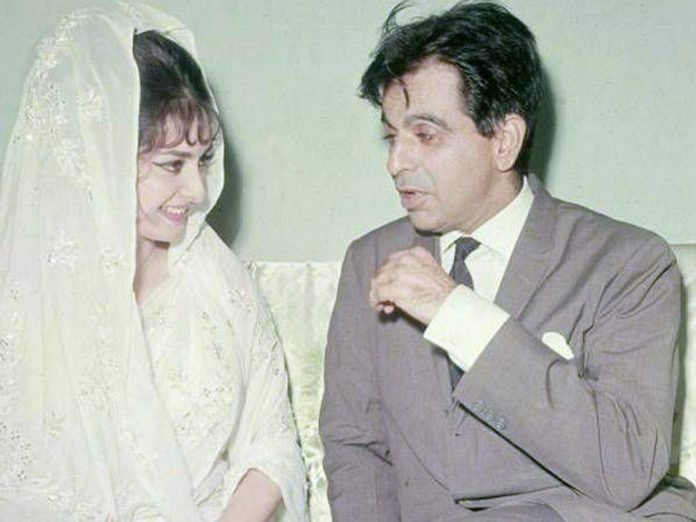 Dilip Kumar-Saira Banu Love Story: No storm could break Dilip Kumar-Saira's relationship- As an example of love, people still narrate tales to the pairs of Heer-Ranjha, Laila Majnu and Soni-Mahiwal and say that no one in this world has loved them like them. But the pair of Dilip Kumar and Saira Banu is also such a pair that will always be remembered for true and selfless love. Saira Banu was in love with Dilip Kumar from the tender age of 12. Since then, he had made up his mind that if there would be someone as his companion, then it is Dilip Kumar.
Example is Dilip-Saira's love story
But today this pair of Dilip Kumar and Saira Banu broke up. Legendary star Dilip Kumar, who was called 'Sikandar' of Bollywood, passed away on the morning of 7 July due to prolonged illness. Saira Banu never left Dilip Kumar's side in the journey of 55 years of marriage. In every moment of happiness and sorrow, she remained with her 'sahib' like a shadow. Dilip Kumar and Saira Ban's love story is an example and inspiration for all those who believe that true love is impossible to find and find in today's times. The pair of Dilip Kumar and Saira Banu made this 'impossible' 'impossible'.
Fell in love with Dilip at the age of 12
Saira Banu was 12 years old and Dilip Kumar was 22 years older than her. Despite this, both of them gave heart to each other. With the passage of time, their love and respect for each other kept increasing.
that first meeting
Saira Banu has confessed on several occasions and in several interviews that she was in love with Dilip Kumar. She also wanted to work with Dilip Kumar, but her 'sahib' never signed Saira with him in the film. Used to think that Saira is much younger than him and in such a situation their pair will not fit together. But one day when Dilip Kumar saw Saira Banu wearing a brocade sari, he was stunned. It seemed as if everything around had stopped. There was a strange movement in my mind. Dilip Kumar kept staring at Saira Bans. From that moment he had spent his life on the beauty of Saira Banu.
Eyes stopped seeing Saira in a brocade sari
In 'Dilip Kumar: The Substance and the Shadow', Dilip Kumar himself mentioned this first meeting with Saira. Dilip Kumar had told, 'When I got down from the car and walked towards Saira's house through the garden area, my eyes fell on Saira who was standing in the yard of her new house wearing a brocade sari. I was shocked because she was no longer the little girl I was avoiding working with. I thought she was too young for my heroine. She turned out to be more beautiful than I expected. I just went ahead and shook hands with Saira Banu. That time just stopped there.
Mother-in-law helped, married Saira
Saira Banu had chosen the film world to get Dilip Kumar. When Dilip Kumar praised Saira Banu's beauty in the first meeting, Saira was very happy and was thinking that I am going to become this man's wife. This was mentioned by Saira in an interview. Saira's mother and actress Naseem Bano played a big role in pairing Dilip Kumar and Saira. It is said that Naseem Bano had asked Dilip Kumar to propose Saira for marriage and talk about the relationship. Then what was there. Saira Banu was waiting for that moment. Saira accepted the proposal and on 11 October 1966, both of them got married.
Films left for Dileep, becoming 'Saya'
Saira Banu and Dilip Kumar were very happy in their married life, but many people in the industry felt that their relationship would break soon. The reason for this was believed to be the discussion of Dilip Kumar's affair and link-ups. But Saira kept her married life firmly. Saira also left the film world for Dilip Kumar. She molded herself as a housewife and took care of Dilip Kumar. Saira Banu and Dilip Kumar's relationship was so strong that no link-up or affair could separate them. But death went away breaking this pair in an instant.