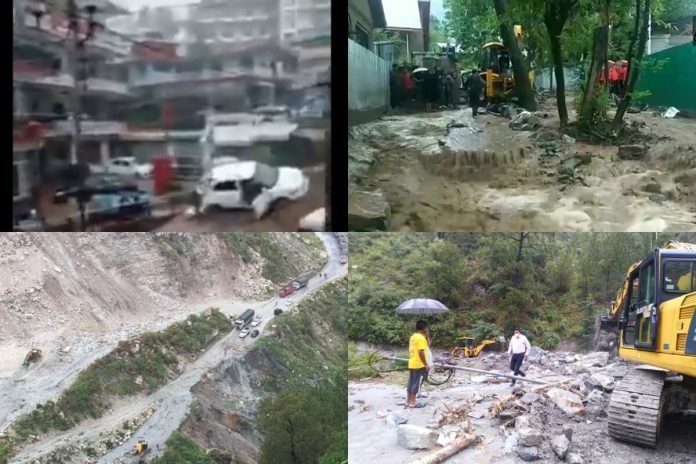 Devastation due to cloudburst in Bhagsu Nag of Dharamsala- cars washed away in water- Kangra Deputy Commissioner Nipun Jindal said that two people were reported missing in the incident. He said that we cannot say that it is a cloudburst incident. This is an incident of flooding due to heavy rains. Many such videos have come to the fore, in which the car was destroyed in the flow of water and was seen flowing in the drains. These videos are becoming fiercely viral on social media and people are telling it the result of tampering with nature.
Due to this incident of cloudburst, the water level in Manjhi river has increased. Let us tell you that these days there is a gathering of tourists in Dharamsala and in the meantime this incident is going to increase the concern. At the time when this incident happened, a huge crowd of tourists was present in Bhagsu Nag and surrounding areas. Let us inform that the restrictions implemented to deal with the corona virus have been relaxed in the last few days and due to this a large number of people have moved to the mountains. In the past, many such pictures had come, in which crowds of people were seen in many tourist places including Dharamsala, Shimla, Manali and Mussoorie in Uttarakhand.
Highway closed due to landslide in Shimla, heavy rain will continue for several days
It is being claimed in media reports that 300 mm of rain has been recorded in Dharamsala in a few hours. There is a huge crowd of tourists these days in many areas including Bhagsu, Mcleodganj, Naddi of Dharamsala. Meanwhile, in Shimla too, landslides occurred due to heavy rains near Jhakri and due to this, traffic on the National Highway had to be stopped. According to the forecast of the Meteorological Department, for the next two to three days, heavy rains will continue in many areas of Himachal Pradesh including Dharamsala, Shimla. In such a situation, tourists should avoid going to these areas for the time being.