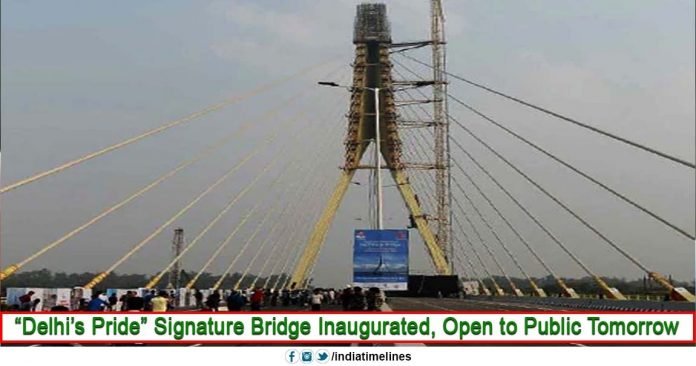 "Delhi's Pride" Signature Bridge Inaugurated By AAP Party:- After a Long wait, "Delhi's Pride" Signature Bridge Inaugurated by AAP Party and today, it is open for public. But if you want to take a complete look of the Delhi city then you have to wait till February 2019. It is double in height of Qutub Minar i.e. the height of Signature Bridge is almost 154 meter, that will help you to give the 360-degree panoramic view of Delhi.  You can see Delhi by standing at the box made from steel and glass on the peak of Pilon's bridge.
"Delhi's Pride" Signature Bridge Inaugurated By AAP Party
On Sunday Evening, The Signature Bridge is inaugurated by the Delhi Chief Minister Arvind Kejriwal and on Monday, it opened for the public. But at the top of the bridge, the Glass Work Observation deck is going under construction and it will nearly take 3 months to complete. DTTDC (Delhi Tourism and Transportation Development Corporation) is handling this project.
As per the official authorities working on this project stated that "There will be a complete view of Delhi on every side of the observation deck, from all sides they will be covered with glass, people can enjoy the places of Delhi and can take selfies here." Thick glass will be used to made this box, the pattern will be mixed, with the touch of peacock's small wings. As per the higher authorities "the reason behind to give the mixed pattern to the glass box is to provide the equality.
In this pattern, clean glass is provided in between thick glass so that public can take pictures. 500mm slots have been given so that visitors can view the scenes to be comfortable. The floor on the bridge is made from light but strong steel said official authorities. Around 50 individuals can stand to the deck at a time.  The size of the pyelon is like boomerang and is curved in the middle. A mirror used to cover the observation deck, it can catch up the speed of 86 mph. Mirror is laminated so the if there is a crack in it, it will not break.