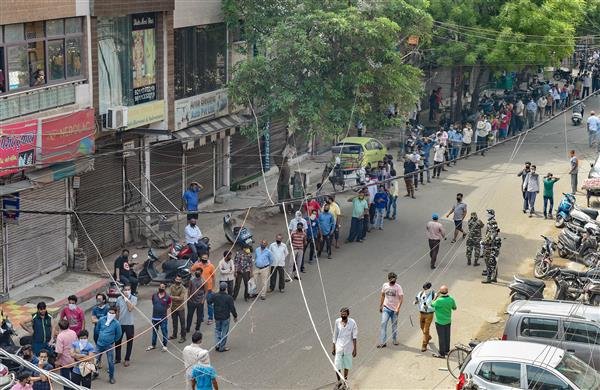 Delhi Unlock Guidelines Live Update: Shops will now open in Delhi… Odd-Even will be the formula- Delhi Chief Minister Arvind Kejriwal has given further relaxation in the lockdown (Delhi Unlock 2.0) from next week in view of the decrease in the cases of Kovid-19. CM Kejriwal has announced that shops and malls will be opened on the lines of Odd Even from June 7. Kejriwal has announced that Metro will be started with 50 percent capacity. Kejriwal said that experts have predicted the third wave of Corona. We have to prepare for that too.
CM Kejriwal's announcement
CM Kejriwal announced that private offices can be opened with 50% capacity. Shops of essential goods will open daily. Delhi Metro is being started with 50% capacity. According to the new guidelines, 100% of Group A officers will work in government offices and 50% of the officers below it. 100% employees will work in essential services.
economy is also important
It is necessary to bring the economy back on track. The factory and construction activity was opened last week. There are about 400 cases and 0.5 percent infection rate in the last 24 hours. We are giving concession in many activities from 5 am on Monday. All the markets, malls will open on the basis of odd-even. From 10 am to 8 pm. Shops will open number wise. In the number of government offices, Group A officers will do 100 percent work, those below that will do 50 percent work. Government employees related to essential services will do 100 percent work.
Delhi government preparing for third wave
Kejriwal said that if the third wave comes, the government is ready for it. Yesterday took part in two separate meetings for about 6 hours. Spoke with expert. This time the peak of Corona, which came about 28 thousand cases, came around 22 or 23 April. What could be the next peak? The next peak can be 37 thousand. Considering this, the preparation started. If more cases come than this, they are ready for that too. If there is a preparation of 37 thousand, then even more cases than that will be ready.
37 thousand per day case wise preparation
CM Kejriwal said that if the peak of 37 thousand comes, then how many ICUs, how much oxygen, beds and medicines will be needed. The task force of that period is being formed. You have to take care of the children too. They will have different types of masks and oxygen. For this, a task force has been formed, which will prepare and report separately. There was a lot of shortage of oxygen, finally, due to the intervention of the Supreme Court, oxygen was obtained with the help of the central government.
420 tonnes of oxygen storage capacity
The Delhi government is already making preparations to deal with the third wave of Corona. CM Kejriwal said that a storage capacity of 420 tonnes of oxygen has to be prepared. Indraprastha has told Oxygen that it will make a plan to make 150 tonnes of oxygen in 18 months. Oxygen tanker problem. 25 tankers are being procured. 64 small oxygen plants are being set up. It will be ready in 1-2 months. Based on the peak of 37 thousand cases, it will be ready that how many oxygen cylinders will be needed.