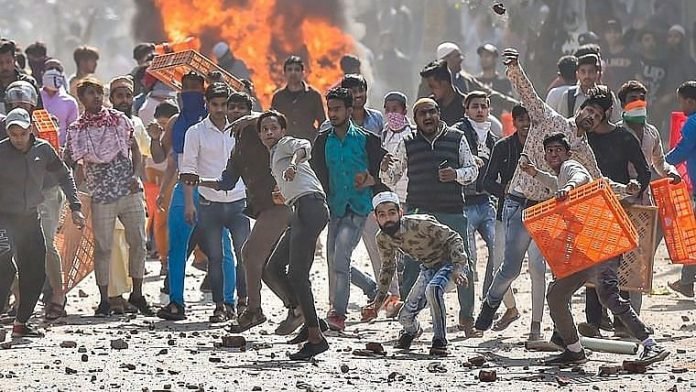 Delhi riots in 2020 was a pre-planned conspiracy, it did not happen in a moment's passion: HC- The Delhi High Court refused to grant bail to an accused in a case related to the North-East Delhi riots in 2020. The court said that it was a pre-planned conspiracy to disturb the law and order in the city and these incidents did not happen in a moment's rush. Justice Subramaniam Prasad, while considering the bail plea filed by Mohammed Ibrahim, an accused in the case related to the alleged murder of Delhi Police head constable Ratan Lal, observed that CCTV cameras were systematically destroyed in the vicinity of the spot.
The High Court observed that the riots that rocked the nation's capital in February 2020 clearly did not happen in an instant and the video footage clearly portrays the conduct of the protesters, which has been kept on record by the prosecution. It was a deliberate attempt to disturb the functioning of the government as well as disrupt the normal life of the people in the city.
The Court observed that the systematic cutting and destruction of CCTV cameras also confirms the existence of a pre-planned conspiracy and a pre-planned conspiracy to disturb law and order in the city.
Rejecting Ibrahim's bail plea, the court said that the available video footage showing the petitioner with a sword was horrific and sufficient to keep him in custody.
The court observed that perusal of the material on record shows that the petitioner has been identified in several CCTV footage for carrying a sword and inciting the mob. This is important evidence that compels this court to keep the petitioner in a long imprisonment. It is the weapon that was being carried by the petitioner which is capable of causing grievous injuries and/or death and is prima facie a dangerous weapon.
The judge, while recognizing the importance of individual liberty in a democratic polity, clarified that individual liberty cannot be abused in a manner that seeks to destabilize the fabric of civil society and cause injury to other individuals. .
The court observed that even though the petitioner cannot be seen at the crime scene, he was part of the mob as the petitioner had deliberately traveled 1.6 km away from his neighborhood with a sword that was used only to incite violence and could go.
Petitioner Ibrahim was arrested in December 2020 and is in judicial custody since then. He had sought bail on the ground that he had never participated in any protests or riots.