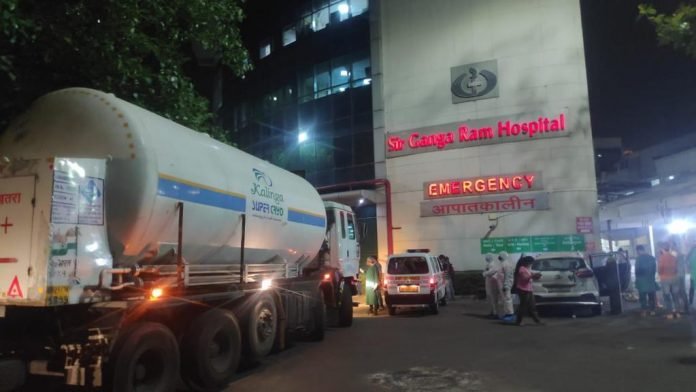 Delhi Oxygen Crisis: 30 killed in Ganga Ram Hospital during last 24 hours: Earlier, the medical director of Sir Gangaram Hospital had said that 25 patients died in the last 24 hours. It was feared that oxygen would be over in 2 hours, but oxygen has been delivered here in time.
The situation of Coronavirus infection in the country is uncontrollable. Doctors and health workers are constantly trying to save people's lives. Despite this, very bad news came out in the capital Delhi where 30 patients died in the last 24 hours at Sir Gangaram Hospital. Meanwhile, Dr. DS Rana, who is affiliated with the hospital, said, '30 patients died of corona infection in the hospital, but not one of them died due to lack of oxygen.
Unli untouched
Meanwhile, due to lack of oxygen, 60 patients whose life was threatening, have been postponed. After pleading with the government, oxygen has been supplied to the hospital in time. Significantly, the hospital administration had informed about the depletion of oxygen in 2 hours. The urgent need for oxygen was stated in the emergency message sent by the hospital. In such a situation, the emergency arrangements that were sought to be made in time have been fulfilled.
Medical devices not working properly
The hospital administration also said that the ventilator and Bilevel positive airway pressure (BiPAP) is not working effectively. Ventilation is being done manually in the ICU and ED. Efforts are being made to restore ventilation in a non-mechanistic manner in ICU and Emergency Medical Department.
Let us tell you that after the lack of oxygen in the hospitals of the capital Delhi, many hospitals have stopped recruiting new patients suffering from the corona.
Delhi CM Arvind Kejriwal drew attention to the lack of oxygen in hospitals in the country's capital. The central government later alleged that Kejriwal is using this platform to do politics and spread lies. Sources in the government said that CM Kejriwal used the PM-CM meet with a 'political motive'. He raised the issue of transporting the oxygen supply by air, he may not know that it is already being done.
Chief Minister Arvind Kejriwal has appealed to hand over the oxygen plants to the army for lack of oxygen in Delhi's hospitals. Amit Malviya, the head of its BJP's IT cell has responded to this on Twitter. Malviya wrote- 'Oxygen plants are being built in Gujarat. Then why is Arvind Kejriwal saying this?