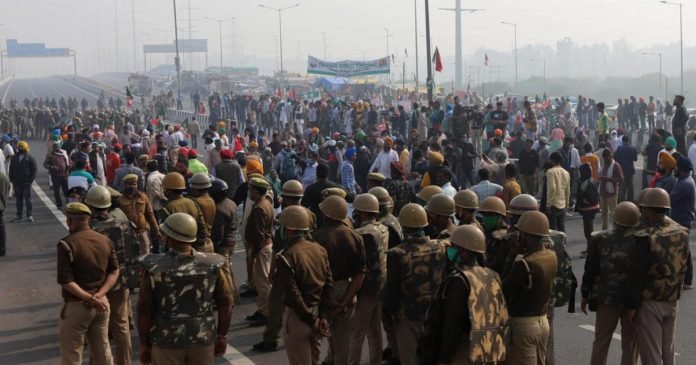 Delhi Kisan Andolan LIVE: 'Kisan Sansad' sitting at Jantar Mantar- Rakesh Tikait- The agitating farmers, who have been on the borders of Delhi for months, have reached Jantar Mantar on Thursday. The 'Kisan Sansad' is sitting here under the leadership of the United Kisan Morcha (SKM). The batch of 200 farmers reached Jantar Mantar by buses. The demonstration will run from 11 am to 5 pm. The 'Kisan Sansad' started by paying tribute to the farmers killed during the movement. Farmer leader Rakesh Tikait said that if the MPs do not raise their voice in the Parliament in favor of farmers, then whatever party they belong to, they will be strongly opposed in their area. In view of 'Kisan Sansad', Delhi Police has increased security at Jantar Mantar. Apart from this, heavy forces are also deployed at Singhu border, Tikri border.
Rakesh Tikait warned the MPs
Bharatiya Kisan Union leader Rakesh Tikait, who reached Jantar Mantar, has warned the MPs. "Whichever party the MPs belong to, if they do not raise the voice of farmers inside the Parliament, they will be criticized in their constituencies," he said.
Rahul Gandhi did not say anything on 'Kisan Sansad'
Congress MP Rahul Gandhi took part in the demonstration of party MPs against agriculture laws in the Parliament complex but did not say anything on 'Kisan Sansad'. When Rahul came out after the adjournment of the house, he remained silent when the journalists questioned him.
Demonstration inside parliament in support of farmers
Congress MPs demonstrated in the Parliament premises against the new agricultural laws. Former party president and Lok Sabha MP Rahul Gandhi led the protest.
Ready to discuss if point-wise objections are raised: Center
The country has seen that these agricultural laws are beneficial to the farmers. We have discussed about these laws. If they (agitating farmers) put their objections point-wise with the laws, then we can have a discussion. – Narendra Singh Tomar, Union Agriculture Minister
The government is more strict. People should not give such power to anyone. There is a proverb in the village – The one who is a jhota is not a buffalo… When more strength comes, the one who eats food should be destroyed first. So whoever voted for the government, it is the first one who is demolishing it.- Rakesh Tikait, farmer leader