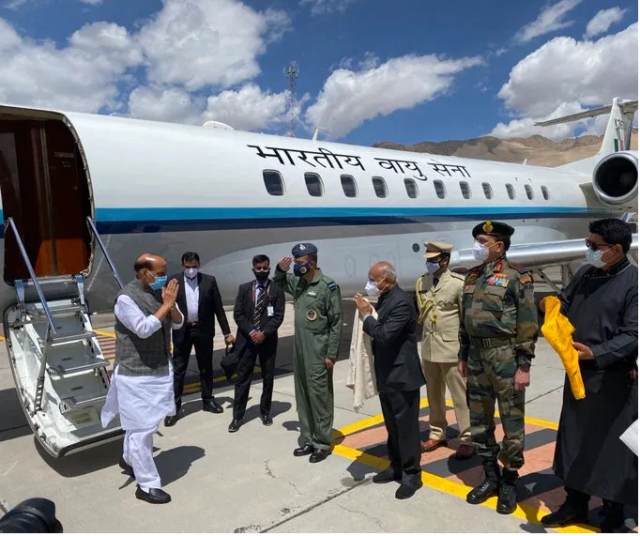 Defense Minister Rajnath Singh reached Leh-Ladakh, said a big thing to ex-servicemen- Defense Minister Rajnath Singh said on Sunday that the dedication of Indian soldiers and ex-servicemen towards the country is an "exemplary example". He said this soon after arriving on a three-day visit to Ladakh. The purpose of Rajnath Singh's visit is to take stock of India's military preparedness in the region amid the long-standing border dispute with China. Officials said that in Leh, the Defense Minister held talks with elected senior representatives of Leh, Kargil and Ladakh Autonomous Hill Development Council.
The Defense Minister was accompanied by Army Chief General MM Naravane during which Singh also met ex-servicemen of the armed forces and discussed issues related to their welfare and national security. Singh said, "The dedication of Indian soldiers and ex-servicemen towards the country is an exemplary example. I express my heartfelt gratitude to all."
Statement issued by Rajnath Singh's office
Singh's office quoted him as saying, "Our aim is to take care of all of you in the same way as you have taken care of the country's security. Despite all this, if you face any problem, a helpline number has been started to solve it.
Official sources said that the Defense Minister will undertake a comprehensive review of India's operational preparedness in eastern Ladakh amid the standoff in the next phase of withdrawal of troops from various places of conflict with China. His visit to this sensitive area is taking place at a time when a new round of talks between India and China has been held two days ago to resolve the long-standing military standoff.
The Defense Minister will visit high-altitude bases and several important places to take stock of the ground reality and boost the morale of the security forces guarding the Line of Actual Control in an atmosphere of animosity.