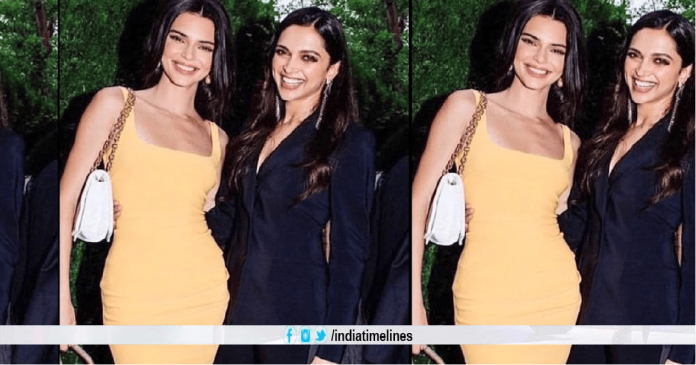 Deepika Padukone poses with Kendall Jenner- Dipika Padukone always keeps her headlines due to her looks. Where on one side she rules in the hearts of people with his superb acting. On the other hand, with her fashion sense, not only in India but also abroad, they have made their own identities. These days Deepika is busy with Ranveer Singh in the film '83' but after taking some time, she was present as a special guest at an event in New York.
Deepika Padukone poses with Kendall Jenner
A charity dinner was organized in New York under the Mental Health Awareness Program on Tuesday night. Deepika Padukone and supermodel Kendal Jenner spotted together in the show. The program was organized at The Youth Academy Center.
Given pose for media
Deepika and Kendal pose together for the media. During this time, the two divas met very warmly from each other. Deepika got a spot in Black Formal suit Kendall Orange Color's body cone dress appeared in the same dress.
Talk about the look of Deepika Padukone she appeared in the Black Boss Look. She wore a blackfinched suit from Alberta Ferretti's collection. With which worn flord pants. There was a stripe in the side of the grey colour. For more details you can visit www.indiatimelines.com.
Along with this look, Deepika appeared with Minimally Makeup and Nude Lipstick, Smokey Eyes wearing Machink's black maps and beautiful earrings.
Deepika wrote special messages on Instagram
Regarding this meeting, Deepika said, "I am very happy to meet Kendal. You are a very nice person … I wish you all the happiness of the world. '
Deepika shared the story of the fight with depression
During the show, Deepika shared the story of fighting with her depression. Here she said, "It is difficult to handle the mind at the time of depression. I myself went through this thing. I have taught a lot of depression disease. The first thing I learned to be patient and secondly, my illness taught me to keep hope alive.