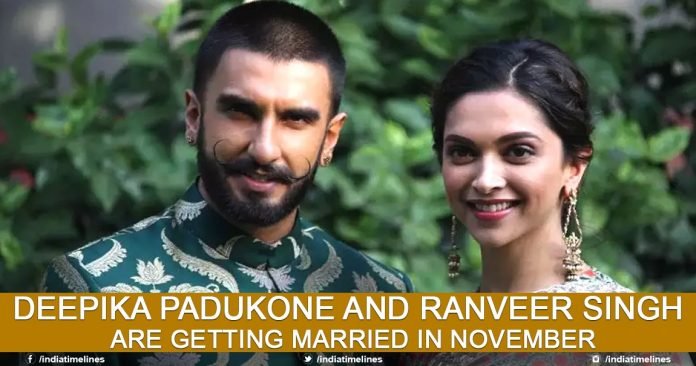 Deepika And Ranveer Are Getting Married In November: On Sunday, various things happened in Bollywood but the greatest news of all was the confirmation statement of Deepika Padukone and Ranveer Singh's wedding date. Various celebrities of Film, TV Industry congratulated the couple. A lot happened on this Sunday, Deepika and Ranveer shared two cards –one is in English and another one is in Hindi- to announce their wedding dates on their social media i.e. Instagram account. We now have confirmation that Deepika And Ranveer Are Getting Married In November 14 and 15. The couple still not declare the venue though. When the couple uncovered the marriage dates, various fans congratulated the couple via various social media channels.
Deepika And Ranveer Are Getting Married In November
Ranveer Singh and Deepika Padukone are all set for their wedding which is going to be held on 14 and 15 November, as per the combined statement by both stars stated on Sunday. "By the blessings of our families, it gives us immense Joy in announcing that our wedding is scheduled on the 14th and 15th November 2018. We thank you for all the love you have showered upon us over the past years and look your blessings as we embark on this beautiful journey of togetherness, loyalty friendship and Love," read a passage from the announcement posted by the couple via social media. Ranveer Singh and Deepika Padukone have been on the latest buzz for the last few months, with various wedding gossips popping up. Wedding location hasn't been declaring yet.
Few of weeks ago, Ranveer and Deepika perfectly avoided questions about their supposed wedding. "You are watching this daily, including insights about the shade of my sherwani and wedding gifts. But, if there is something, probably you will be the first to know," stated Ranveer at media on the other side Deepika referred to the media as, "There have been numerous November wedding." Earlier it was supposed as they will be going to tie the knot on 20 November.
Regardless of any official affirmation, a few insights about their detailed wedding included in features on an off. A few months prior, it was reported for that no phones will be permitted at the wedding setting. The couple is also stated to have a destination wedding in Italy's Lake Como with just loved ones. Meanwhile, shopping is now said to have started at the Padukone and Singh houses.