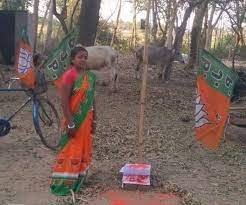 Day-to-day laborer's wife Chandana Bauri reached the assembly on a BJP ticket- The BJP has won 77 seats in the West Bengal assembly elections, out of which many seats are being fiercely discussed. Shubhendu Adhikari, who defeated Mamta in the battle of Nandigram, has emerged as a hero in the BJP camp. Apart from this, a common woman Chandana Bauri is also being discussed to reach the assembly. Everyone is shocked by the story of 30-year-old Chandana Bauri, the wife of a daily wage laborer, reaching the assembly. Bauri defeated Trinamool Congress candidate Santosh Kumar Mandal by 4,000 votes. Chandana's story of passing away in a hut is also becoming viral on social media.
While someone is describing the victory of Chandana Bauri as the identity of democracy, some are defining it as the BJP's reach to the common people. According to the affidavit submitted by Chandana Bauri for the election, she has assets worth Rs 31,985, while her husband has a wealth of Rs 30,311. Apart from this he has three cows and three goats. The mother of three children, Chandna Bauri's husband works as a housemaid. Chandna Bauri had come into the limelight ever since she got a BJP ticket, but now the victory has increased her discussions.
After the ticket was announced by the BJP, Chandana Bauri said, "Before the announcement of the ticket, I did not believe that I could get a ticket for the assembly in the state." I was inspired by many people to apply for tickets online. I had applied, but I was not sure that I would get a ticket from the BJP. Now Chandna Bauri's strong victory has also been discussed on Twitter. Swapan Barui from TMC has been an MLA from this seat twice. This time, TMC gave Santosh Kumar Mandal a chance to cut his ticket.
House built under PM Awas Yojana
Chandna also gives her husband a hand during the absence. Chandna has studied up to class 12 while her husband is only eighth pass. The husband and wife also have an MNREGA card. Last year, he also got the first instalment of 60 thousand under the Pradhan Mantri Awas Yojana. With which he confirmed his home.
Property details
In the affidavit given in the Election Commission, there are only 6335 rupees in Chandana's bank account. In the name of the property, Chandana has a total of Rs 31,985 including three cows, three goats, a hut and cash deposited in the bank. There is also no toilet in Chandna's house. She is so devoted to the party that she goes out daily wearing saffron-coloured saree with lotus print for publicity.