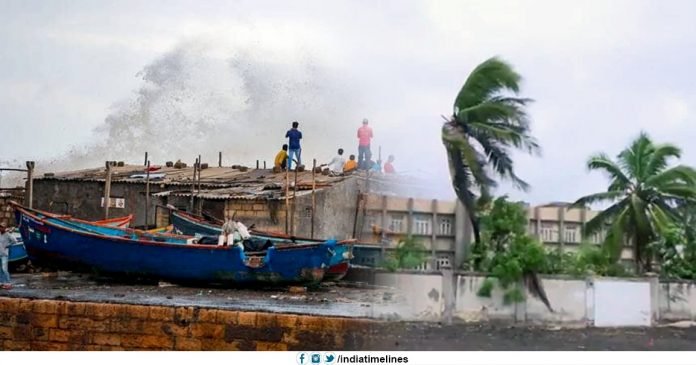 Cyclone Vayu Live Updates- On the cyclonic storm Vayu, the shadow crisis on Gujarat has diminished a bit. According to the Meteorological Department, cyclonic storm winds rising towards Gujarat (Gujarat) have changed their direction at a speed of more than 150. It is believed that it will now be able to touch the coastal areas of Gujarat. However, the danger is not completely eliminated. Cyclone will pass through Veraval, Porbandar, Dwarka, which will cause heavy storms and rain in these areas.
Cyclone Vayu Live Updates
Gujarat government's Additional Secretary Pankaj Kumar has said that due to Cyclone Vayu there is no news of either being injured or killed. At the same time, the cyclone has no effect on the airports of Gujarat at the moment. The situation is normal in Surat, Bhuj, Keshod, Kandla, Jamnagar, Vadodara, Ahmedabad. Air is running at the speed of 30-40 km / hour at the airport of Diu, Porbandar and Bhavnagar. The situation is closely monitored.
The Gujarat government has made preparations at war level to deal with the situation. During this time 52 teams of NDRF have been deployed. Also, all the three organs of the army and the Coast Guard are also kept on alert. Police and state government officials are constantly monitoring the cyclone. The speed of the cyclone is being told 135 to 145 km per hour, but it is also expected to increase to 160-170 kmph. The threat of collision with the coast of Gujarat is now over, but the government and disaster management have asked people to be cautious till June 15.
– Pankaj Kumar, Additional Chief Secretary of Gujarat government, has said that the government is still completely serious about the cyclone. People are still asked to stay in relief camps.
Cyclone Vayu Live Updates- According to the Indian Meteorological Department, cyclonic stormwind will pass near Saurashtra coast this afternoon, during which the speed of the air will be 135-160 kmph. It will be affected by areas like Diu, Gir, Somnath, Junagadh, Porbandar and Dwarka.
Given the threat of scrambled air, the administration has prepared food packets, which will be given to the needy.
– When the Somnath temple is not closed during the cyclone, the Gujarat government minister Bhupendra Singh Chudasama has said that it is a disorder of nature, we can not stop it, nature can stop it. For the latest updates, you can visit www.indiatimelines.com.
– In the Konkan region of Maharashtra, due to cyclone wind, all the interstate has been closed to the public.