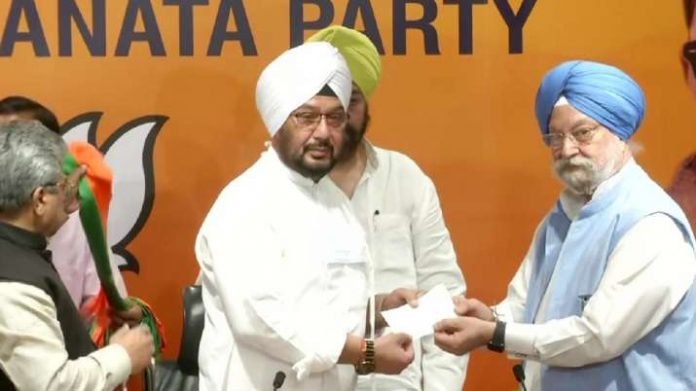 Congress had killed former President Giani Zail Singh- said grandson Inderjit Singh by joining BJP- Sardar Inderjit Singh, grandson of former President Giani Zail Singh, today joined the Bharatiya Janata Party (BJP) ahead of the Punjab Assembly elections. As soon as he joined the saffron party, he made a sensational allegation on the Congress. He said that his grandfather was deliberately killed by accident.
Let us tell you that at the BJP Central Office in Delhi, the party's general secretary and in-charge of Punjab, Dr. Dushyant Gautam and Union Minister Hardeep Singh Puri welcomed Inderjit Singh into the party wearing a corset and gave him the membership slip.
On this occasion, Darjeet Singh said that today his late grandfather's wish has been fulfilled after many years. He was heartbroken by the way the Congress treated him despite his loyalty. He said, 'My grandfather wanted me to join the BJP. He had sent me to Atal Bihari Vajpayee and LK Advani to seek blessings."
Inderjit Singh made a sensational allegation on the Congress leadership that in 1994, the car of his grandfather and former President was deliberately accidental due to some conspiracy. After this he died during treatment.
Let us tell you that even after becoming the President, Giani Zail Singh did not forget to visit Anandpur Sahib whenever he was around Punjab. Later also in 1994, while on his way to Takht Sri Keshgarh Sahib, his car crashed. He was taken for treatment at Chandigarh PGI Hospital, where he passed away. His differences with the then Congress leadership on some issues, including Operation Blue Star and the Postal Bill, were not hidden.
He said that he attended several rallies in Delhi with the then veteran leader Madanlal Khurana but did not join the party then. Expressing his gratitude towards BJP President Jagat Prakash Nadda, he said that he has joined BJP on his invitation and whatever responsibility the party gives, he will fulfill it with full dedication.