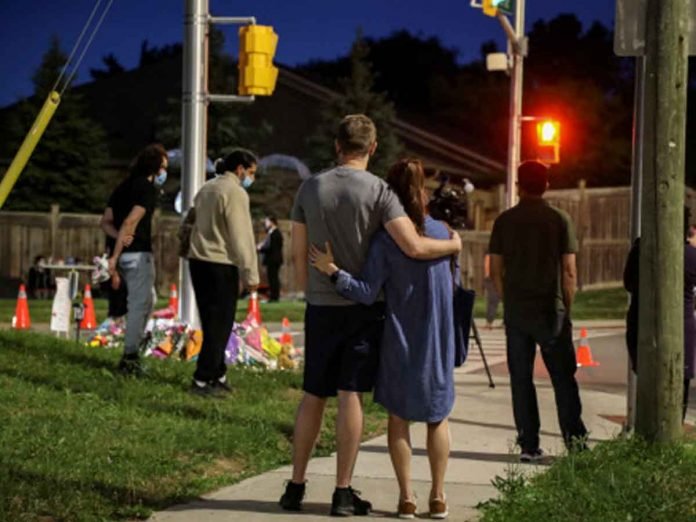 Communal violence in Canada, truck driver tramples over Muslim family, four killed- Incidents of sectarian violence have occurred in Canada, known for its multicultural heritage. Five members of a Muslim family going on foot in Canada were hit by a man with his truck. Four members of the family died in the incident and one is undergoing treatment at the hospital. Canadian police told about this on Monday. It is alleged that the truck driver targeted the family for being Muslim.
The incident happened on Sunday evening. Police in Ontario said the victims included a 74-year-old woman, a 46-year-old man, a 44-year-old woman and a 15-year-old girl. A nine-year-old child is hospitalized in critical condition. The family has requested not to be named. The accused has been arrested in this regard and a case of murder of four persons has been registered against him. Police said the suspect, Nathaniel Weltman (20), a resident of London in Ontario, did not know the victims.
Police said the vehicle trampled the victims at a turn. Police said the suspect was arrested from the parking area of ​​a nearby mall. London Police Chief Stephen Williams said: "We believe the victims were targeted because they are Muslims. If any community is targeted with the spirit of hatred, fear and panic can arise among the community especially Muslims.
Police said the vehicle trampled the victims at a turn. City Mayor Ed Holder said, "This is a case of mass murder against Muslims. The accused perpetrated this incident due to racial hatred." The deceased were identified as Salman Afzal (46), his wife Madiha (44), their daughter Yumna (15) and 74-year-old grandmother. The name of the elderly woman was not disclosed. The name of the child admitted to the hospital has been given as Fayaz. The kin of the victims of the incident issued a statement and said that people should stand up to stop racial hatred and hatred against Islam. "All those who knew Salman and his family knew that he was a very good Muslim. The family members were doing very well in their respective fields. Their children were also doing well in their school studies." After the incident, police cordoned off the crime scene and other evidence is being collected. Police Chief Stephen Williams said: "We believe the family was targeted for being Muslim.