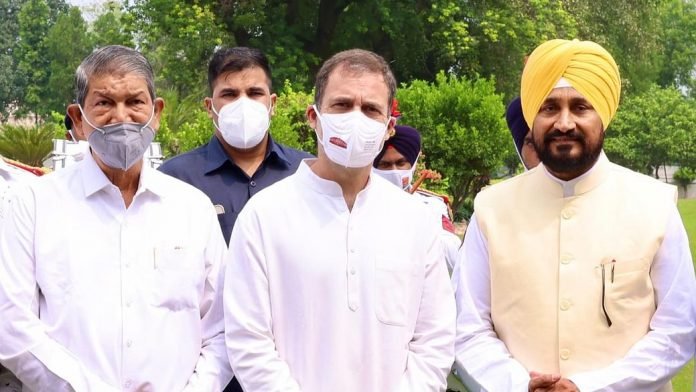 Charanjit Channi's decision as soon as Punjab CM- Husan Lal becomes Principal Secretary- Punjab's new CM Charanjit Singh Channi has taken oath as the Chief Minister. During this, Punjab Congress in-charge Harish Rawat and Punjab Congress President Navjot Singh Sidhu were also present. After taking the oath, Channi said that if the farmers come under fire, then I will put my throat forward. He said that the three agricultural laws should be returned. Apart from CM Charanjit Singh Channi, Sukhjinder Singh Randhawa and Om Prakash Soni have taken oath as ministers who will be made Deputy CM. One of these faces is Hindu and the other face is from the Sikh community.
Chief Minister (Charanjit Singh Channi) has said that there is no need for this much security, will reduce it: Punjab Deputy Chief Minister Sukhjinder Singh Randhawa
30-35 MLAs were present from whom suggestions were taken as to what the Punjab government should now do for the people. We have 3 months in a few days you will see what works are done: Punjab Deputy Chief Minister Sukhjinder Singh Randhawa after meeting Punjab Chief Minister Charanjit Singh Channi]
Channi changed the chief minister's secretary
Punjab: After Charanjit Singh Channi became the CM, the Principal Secretary and Special Principal Secretary to former CM Captain Amarinder Singh have been changed. In Investment Promotion, Principal Secretary Husan Lal and Food Affairs Secretary Rahul Tiwari have been given their place.
Very little time after Channi, how many officers of the Captain will be able to be removed?
Many officers close to Captain Amarinder Singh, who left the post of Punjab CM, have also quit. Chief Principal Secretary to CM Suresh Kumar has been relieved. Raveen Thukral, who was a crime reporter for an English newspaper in Delhi in the 1990s, has left the post of media advisor. Political Adviser Captain Sandeep Sandhu, Legal Adviser Advocate General Atul Nanda have also resigned. But all this was in Amarinder's personal team. What will happen to those to whom the Captain had entrusted responsibilities in various departments?