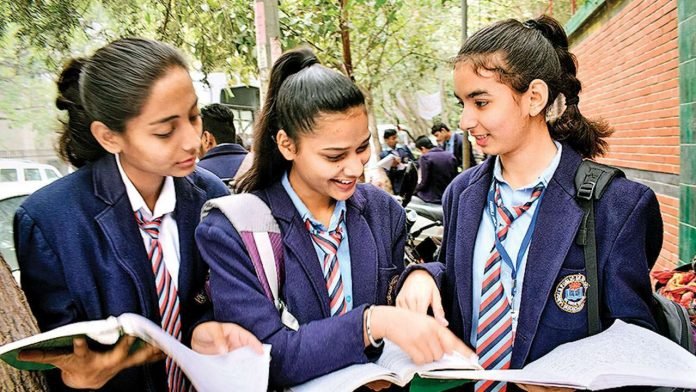 CGBSE 10th results 2021 live updates: Chhattisgarh Board of Secondary Education (Mashim) has released 10th class results. The 10th CG Board result was released through video conferencing. Students can check their results on the official website of the board, cgbse.nic.in and results.cg.nic.in. This time due to the Corona epidemic, the Chhattisgarh Board 10th exam was cancelled, in such a result has been released on the basis of CG Board Class Assignment and Internal Assessment. This time no student has failed and the result has not been stopped.
This time a total of 7 assignments were given, out of which four assignments were required to be submitted. Students who did not submit assignments have also been passed with minimum marks.
With the passing of all students, the number of students entering the 11th has increased.
This time the result has been removed from the assignment, so the names of the merit list and toppers have not been released.
11:07 AM – First class passed 96.81 percent. 1.96 percent students have passed in second division and 1.23 percent students have passed in third division. 10:45 AM – It is being told that the toppers will not be announced this time as the result is being released on the basis of the result assignment. The exam could not be held.
11:00 AM – The wait for about 4.61 lakh students is about to end.
10:45 AM – – The link to the result has started appearing on cgbse.nic.in. It will be activated soon. From 11 o'clock, students will be able to check their results by entering their roll number by clicking on this link.
10:42 AM – Under the new assessment policy, the state regular students who were not able to appear in the practical exam and projects due to Kovid-19 will be given minimum marks to pass.
10:21 AM – – Chhattisgarh Board of Secondary Education (Mashim) had canceled the class 10 examination starting from April 15 due to the growing Corona infection in the state. Students, parents and teachers were upset over the conduct of the examination due to rising corona infection cases in the state and were demanding that it be postponed.
10:01 AM – According to the schedule, the 12th examination was to start from May 3 and continue till May 24. But it was also postponed.
09:01 AM – – Last year, 73.62% students passed in 10th standard. Pragya topped the 10th with 100 per cent marks. There were 3,92,163 candidates in the 10th examination. In the 10th, the percentage of girls was 76.28 and that of boys was 70.53.
– Topper of last year's 10th
Rank 1 – Mungeli's Pragya Kashyap – 100% Marks –
Rank 2 – Bemetra praised Rajput – 99.33 per cent marks
Rank 3 – Bharti Yadav of Balod – 98.67 percent marks
Rank 3- Nikhil Sau of Jashupar District – 98.67 per cent marks
Rank 4- Bijendra Kumar of Janjgir district – 98.50 percent marks
Rank 5- Mamta Singh of Balod – 98.33 per cent marks
Rank 5- Pratibha Sikheria – Raipur – 98.33 per cent marks
Rank 5- Virendra – Raipur – 98.33 percent marks
Rank 5- Virendra – Raipur – 98.33 percent marks
Rank 5- Ghulam Rabbani – Jashpur – 98.33 per cent marks
Rank 6- Ritesh Kumar Sinha – Balod – 98.17 percent marks
Rank 6- Chhaya Nirmarkar – Janjgir – 98.17 per cent marks
Rank 6 – Asad Iqbal – Surajpur – 98.17 percent marks