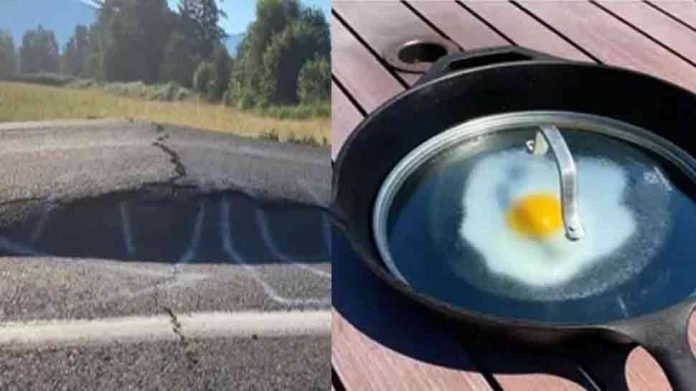 Canada: Here the heat broke all the records, there was a crack on the road: The heat has broken all the records this time. In Canada and the North-Western America, it is getting so hot that roads are broken here. An omelet is being made when an egg is kept in the sun. The heat has also broken the national record here. According to the Meteorological Department, the heat in Canada may increase further in the coming days.
Heat damage to roads
According to a report, there was a record breaking heat in some areas of Canada on Wednesday. Here the mercury went up to 46 degree Celsius. Due to this, the roads here also got damaged. In many places, the roads were broken due to the heat. Many houses have also been damaged due to excessive heat.
sun cooked omelet
In this terrible heat, a man in Canada broke an egg and placed it in the sun in a pan. Here the heat is so high that the egg is cooked and its omelet is made. Its photo is now going viral on social media. Canadians are very upset by this heat.
The temperature increased so much in the last 50 years
Let us tell you that not only Canada but the entire area of ​​Pacific Ocean and North-West America is troubled by the heat at this time. Since June 28, the temperature here has remained above 42 degree Celsius. According to climate data Berkeley Earth, the temperature in the region of Canada and the northwestern US has increased by 1.7 °C in the last 50 years.
People are adopting these measures to avoid heat
An order has been issued to close schools in Canada due to excessive heat. Many factories have also been closed. People are going to swimming pools and ice cream parlors to escape the heat.
Heat record broken in Canada
Meteorologists said that summer has just started in the Pacific and Northwest. The record of heat in Canada has been broken so far. The temperature here reached 46 degrees Celsius, which is 1.6 degrees Celsius more than the previous national record.