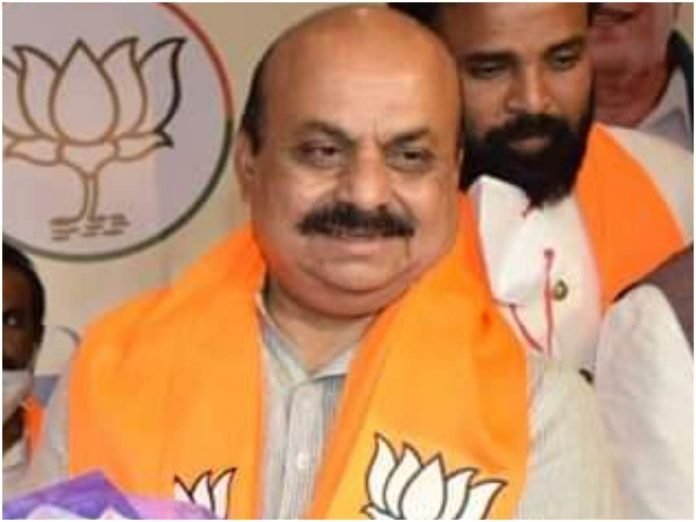 Bommai takes oath as Karnataka CM: Blessed by touching Yeddyurappa's feet- Basavaraj Bommai has taken oath as the 23rd Chief Minister of Karnataka. He will replace former Chief Minister BS Yediyurappa. Before taking oath, Basavaraj said he would benefit from Yeddyurappa's long experience. Not only this, after taking the oath, Bommai touched Yeddyurappa's feet and took his blessings. Two days ago, BS Yediyurappa had resigned from the post amid tussle in the BJP's state unit and the government. However, one of the reasons for his resignation is being said to be old age. By making Bommai, who is said to be close to BS Yediyurappa, as CM, the BJP has tried to reach out to both the former CM and the Lingayat community. Bommai also comes from the same Lingayat community to which Yeddyurappa belonged.
Basavaraj Bommai reached Raj Bhavan at 10:30 am to take oath as CM. During this his leader and former CM BS Yediyurappa was also with him. Earlier, he also met Dharmendra Pradhan, who arrived in Karnataka as a Union minister and observer. Bommai was declared the new CM of Karnataka by the BJP high command on Tuesday evening. Yeddyurappa had resigned from the post on Monday itself, which was immediately accepted by the governor. After being declared CM, Bommai said that he will work for the welfare of the poor in the state and will give a government of public interest.
Basavaraj Bommai said that he will call the cabinet meeting today itself. After this, in a meeting with senior officials, we will talk about the situation of flood and corona. Yeddyurappa has resigned at a time when the state has been ravaged by floods due to heavy rains. However, Basavaraj appreciated the efforts of former CM BS Yediyurappa to deal with the situation of Corona and floods. Basavaraj is considered one of the leaders close to Yeddyurappa. With his appointment, it is believed that Yeddyurappa's influence will continue in Karnataka politics in the days to come.