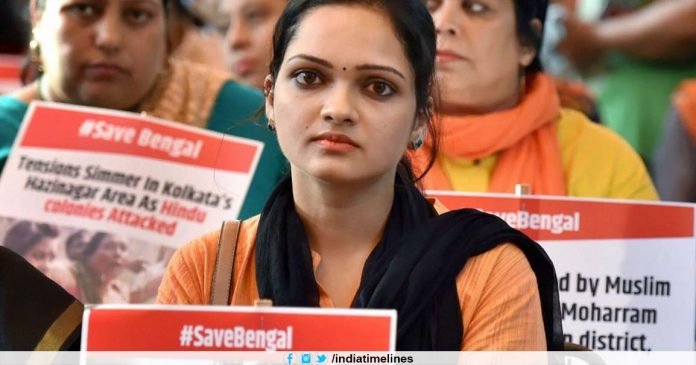 BJP Protest at Jantar Mantar Over Violence in West Bengal: despite the deployment of 713 personnel of the Central forces and 71 thousand security personnel during the elections in West Bengal, the incidents of violence have not stopped. The incidents of political violence are increasing with every stage in the state. The kind of violence seen during the road show of BJP President Amit Shah on Tuesday has shocked democracy. Now the leaders of Bharatiya Janata Party are sitting on a dharna in Kolkata and in Jantar Mantar of Delhi on Wednesday. Several local and central leaders along with Union Minister Vijay Goel and Harsh Vardhan are involved in the Dharna.
BJP Protest at Jantar Mantar Over Violence in West Bengal
The incidents of political violence in West Bengal are not new. There has been a long history of political violence in the state, whose beginning is considered to crush the Naxalwadi movement. The then Congress Chief Minister Siddhartha Shankar Ray had suppressed this movement with great cruelty. Thousands of people were killed in this violence. After this, the parties that came to power in the state also adopted the path of Congress against their rivals.
After the Congress became, they worked in retaliation, due to which there was a long period of political violence in the state. About 60 thousand people were killed in this. According to the Trinamool Congress government figures, there were 28,000 political murders in the tenure of 1977 to 2007. Political analysts believe that after the Congress, the Trinamool Congress is still trying to walk on the same path.
Political violence in West Bengal is not new
The seats which are to be voted in the final phase include Diamond Harbor, Jaynagar, Mathura, Jadavpur, Kolkata South, Kolkata North, Dumdum, Barasat and Basirhat. The most important seat of this phase is Jadhavpur and South Kolkata. It is home to Mamta Banerjee and she started her political career from here. In the year 1984, young leader Mamta Banerjee defeated Somnath Chatterjee, the CPI (M) veteran leader. For the latest news, you can visit www.indiatimelines.com.
After this victory, she came to the national level for the first time. After this, she shifted himself to South Kolkata. Mamta was a six-time MP (Member of Parliament) from South Kolkata. In 1998, Mamata started the Trinamool Congress from South Kolkata. In 2014, Modi's vote share had diminished. Now, in the last phase, there is an election on these seats, for which both the BJP and the TMC have put together full force.