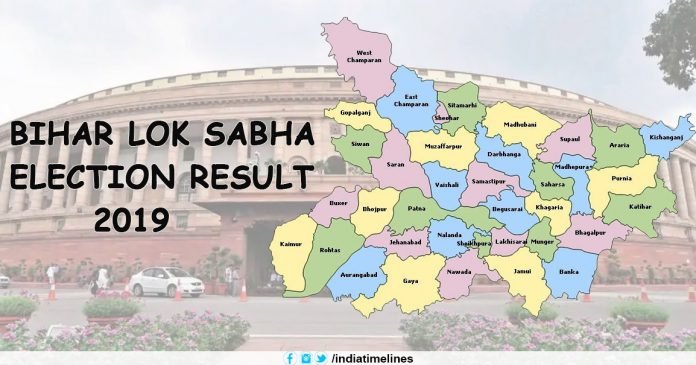 Bihar Lok Sabha Election Result 2019- The counting of votes for the Lok Sabha election resulted from eight o'clock in the morning. The Lok Sabha elections run from April 11 to May 19 were held in seven phases. At the same time, counting of all the 40 Lok Sabha seats in Bihar has started from eight o'clock in the morning. Bihar has 40 Lok Sabha seats and total of 626 candidates contested. The Election Commission has directed all District Electoral Officers to follow all the necessary procedures related to the counting of votes. Also, the directive has been directed to make the election process transparent and videography of counting. Let us know that the initial trends of the counting of votes will start from about nine hours after the counting of votes. Service votes will be counted in the first hour. After this EVM votes will be counted. After the count of each round, the result will be given on the blackboard and on the mic.
Bihar Lok Sabha Election Result 2019
The result of the exit polls has seen a major victory of NDA in Bihar. On the other hand, the general body has been projected to get fewer seats than the 2014 Lok Sabha elections. If the results of exit polls prove to be true, there may be a shock to the alliance in Bihar.
Bihar Lok Sabha Election Result 2019 LIVE Update:
11.15AM: In the Karakat Lok Sabha, till now, Mahabali Singh of JDU received 40734 votes and Uppsala Kushwaha of Ralospa got 31,177 votes. Mahabali Singh is running 9457 ahead.
11.10AM: In the counting of ballot ball in Khagaria, LJP candidate Chaudhary Mahbub Ali Kaiser is leading ahead of Mukesh Sahni of VIP with 22 hundred votes.
10.52AM: After winning the first round of Siwan, Jain's Kavita Singh got 19059 votes, while Hina Shahab of RJD got 17880 votes.
10.41AM: Misa Bharti leap in the third round count. Ramkripal Yadav left behind. Misa is now leading 14 thousand votes.
10.36AM: BJP candidate in Aara Rajkumar Singh is leading by CPI Male candidate Raju Yadav with 21000 votes.
10.20AM: RJD's Misa Bharti from Patliputra seat has got 31769 votes so far, while BJP candidate
Ramkrishpal Yadav got 26584 votes so far.
10.15AM: CPI (M) candidate Raju Yadav in Aara, ahead of two thousand votes, Raju Yadav got 13000 votes and BJP candidate Rajkumar Singh got 11000 votes.
10.10AM: In the counting of ballot seat in the ballot, BJP's Ashwini Kumar Choubey is leading the RJD's Jagdanand Singh.
10.00AM: From Munger, Lalu Singh of JDU (JDU) is proceeding with 1500 votes, while Purnea is ahead of JD (U) candidate Santosh Kushwaha (JDU) is leading by 14000 votes.
09.47AM: LJP leader Chirag Paswan (LJP) is going ahead with 9 thousand votes from Jamui, while Kishanganj, Mahudd Ashraf of JDU (JDU) is leading by 10 thousand votes.
09.40AM: BJP's Ravi Shankar Prasad has got 8127 votes from Patna Sahib seat, while Shatrughan Sinha of Congress has got 4041 votes so far. RJD's Misa Bharti has got 5601 votes so far from the Pataliputra seat while the BJP has got 7144 votes so far. For the latest updates, you can visit www.indiatimelines.com.