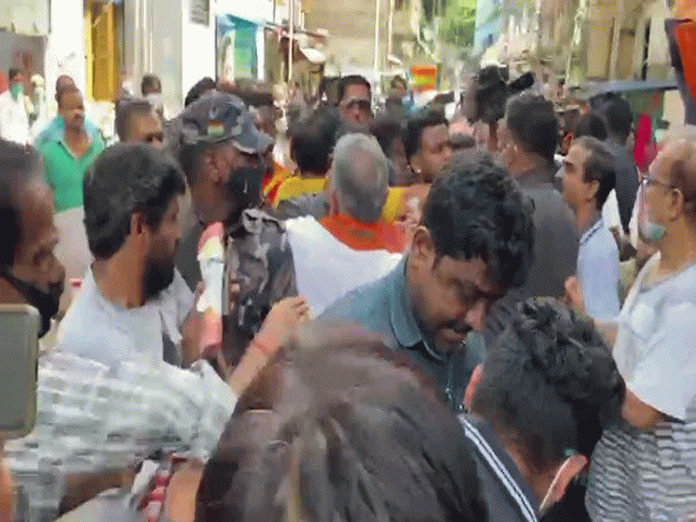 Bhawanipur by-poll: Ruckus on the last day of campaigning in Bengal's hot seat Bhawanipur- There was a lot of ruckus on the last day of the election campaign in Bhawanipur, the hot seat of West Bengal. There were frequent clashes between BJP and TMC workers. Both the parties accused each other of the attack. BJP leaders claimed that TMC workers attacked their leader Dilip Ghosh and the workers. In a viral video, it is seen that the workers of both parties are in a tussle. During this, the security guard had to remove the gun to handle the situation.
Chief Minister Mamata Banerjee is contesting from here, in such a situation, TMC has put full force. BJP alleges that their leaders and workers were campaigning in Bhawanipur.
Meanwhile, TMC workers manhandled him. Even BJP MP has been accused of misbehaving. BJP raised the question that why is TMC so scared? TMC is taking out the tease of defeat in Nandigram here.
'Scuffle with MP'
BJP MP Dilip Ghosh said that the fight is strong. TMC is scared, so it is in a scuffle. He said that our MP Arjun Singh was campaigning. Some TMC people followed him. Slogans of going back. He shoved them and threw them out of the locality.
'Mamata Banerjee fears defeat'
Meanwhile, posting a video of the scuffle, BJP MP Arjun Singh said that if Mamata Banerjee and Abhishek Banerjee are so confident of winning the Bhawanipur by-election by a margin of one lakh, then why is such hooliganism taking place in the area? Bengal BJP leaders are being gheraoed. Why? Do they fear repeating Nandigram in Bhawanipur as well?
'Mamata's entire cabinet in Bhawanipur'
Dilip Ghosh said that the TMC people were telling the BJP that the bail was forfeited. Today the entire cabinet of Mamta Banerjee is engaged in Bhawanipur. Ministers have camped on the road. He said that we are fighting people. We are reaching people door to door. BJP is seeking votes against tyranny, violence and dictatorship.
'The image of Bengal was made of terrorism'
Dileep accused TMC of making Bengal's image of terrorism. This image has become that here Katmani, Syndicate runs. Corruption is at its peak. People who come here once are afraid to come again.
'Discomfort in TMC'
BJP's IT cell in-charge Amit Malviya said that the BJP's wide reach in Bhawanipur has made TMC restless. Efforts are being made to stop the leaders from campaigning. But how many people will they be able to stop? BJP leaders are spread in every nook and corner of the area. The important thing is that the public is ready to support BJP in large numbers.