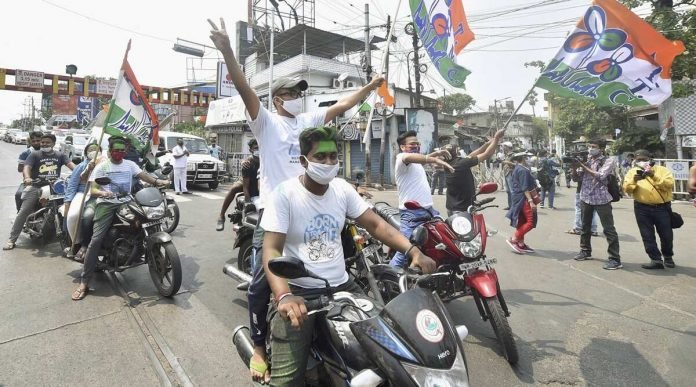 Bengal Violence News: Hundreds of BJP workers flee Assam fearing Bengal violence – After the election results in West Bengal, some BJP workers were killed and many were injured in the violence on Monday. At the same time, looting was done in shops in many places. Scared of the incident, around 300-400 BJP workers have reached Assam in the hope of security from Bengal. This claim has been made by Hemant Biswa Sarma, a minister in the Assam government.
In a tragic incident, Hemant Biswa Sarma tweeted on Tuesday that 300-400 BJP Bengal activists and family members have come to Dhubri in Assam to stop. They have crossed the border after facing atrocities and violence in Bengal. We are giving shelter and food to all. Mamta Banerjee Didi has to stop this dirty dance of democracy. Bengal deserves better.
National Human Rights Commission ordered an investigation into the violence
On the other hand, the National Human Rights Commission (NHRC) has ordered an inquiry in several districts of West Bengal after the election violence came to light. The Center has asked the government to submit a factual report on the incidents of attacks on opposition activists in the state. Officials said that four people died in an alleged clash between supporters of the Trinamool Congress and the BJP on Sunday and Monday in Bardhaman district. At the same time, the Trinamool Congress claimed that three-party supporters were among those killed.
District administration did not take action to stop human rights violations
The NHRC said that it has taken cognizance of the news published in newspapers about the death of some people in the violence that took place on Monday after the elections in West Bengal. The commission said that there were alleged clashes between political activists, arson in party offices and looting in several houses along with vandalism. The Commission said that it appears that the district administration and local law enforcement agencies did not take action to stop the human rights violations of the affected people.
SP NN Tripathi of Birbhum said, 'The news of the rape of two women and molestation of some other women in Nanur is becoming viral on media and social media. We tried to verify such information and also spoke to local BJP leaders. Local BJP leaders are unaware of any such incident. I inform everyone that this is fake news.
On the other hand, the West Bengal BJP has issued a statement in its official WhatsApp group on Monday evening. In it, it has been said that TMC people have gang-raped two women activists who became the polling agents of BJP candidate Tarak Saha from Nanur in the Birbhum district. A worker has also been kidnapped.
While tweeting a video, BJP general secretary Kailash Vijayvargiya has claimed that after Mamta Ji's victory, her workers are celebrating and breaking the house of BJP workers. So far more than 9 BJP workers have been killed. Abhijeet Sarkar of Beliaghata and Haran of Sonarpur has been brutally beaten to death.