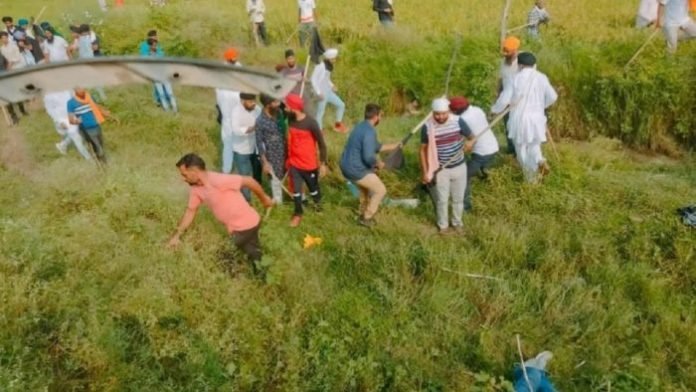 Before leaving for Lakhimpur- Rahul Gandhi said: 'Government has no idea of the power of farmers'- The political controversy that arose after the death of eight people, including four farmers, in Lakhimpur Kheri has not stopped yet. All the opposition leaders are trying to reach Lakhimpur Kheri but no one is being allowed to go there. Akhilesh Yadav, Satish Chandra Mishra is under house arrest and Priyanka Gandhi is in custody for the past two days. Meanwhile, former Congress President and MP Rahul Gandhi have announced to visit Lakhimpur Kheri on Wednesday.
Rahul Gandhi is going to visit Lakhimpur Kheri along with Chhattisgarh CM Bhupesh Baghel and newly-elected Punjab Chief Minister Charanjit Singh Channi.
Congress leader Rahul Gandhi held a special press conference before leaving for Lakhimpur Kheri.
He said, "For some time in India, farmers are being attacked by the government. One, the farmers are being crushed under the jeep, they are being murdered. BJP's Minister of State for Home is being talked about. The son is being talked about, but no action is being taken against him."
Farmers injured in Lakhimpur Kheri told what happened there
He said that "farmers are being attacked continuously, before that their land was snatched. Three new laws were introduced. That's why the farmers are sitting on dharna. The government has no idea of ​​the power of the farmers.
Rahul Gandhi said that "Yesterday PM Modi was in Lucknow, but could not go to Lakhimpur Kheri. The post mortem is not being done properly and if anyone is saying anything under a well-thought-out strategy, it is being closed.
Rahul Gandhi told that he will try to go to Lakhimpur with two Chief Ministers on Wednesday.
He said that "five people cannot go under section 144, so we want to go only three. We have written a letter to the administration.
He said that only the people of his party are being stopped from going to Lakhimpur Kheri. Some other party people have gone there.
Rahul Gandhi also mentioned the Hathras case in response to a question.
He said, "Criminals can do anything in UP. Murderers, rapists roam outside and victims are in jail or are killed.