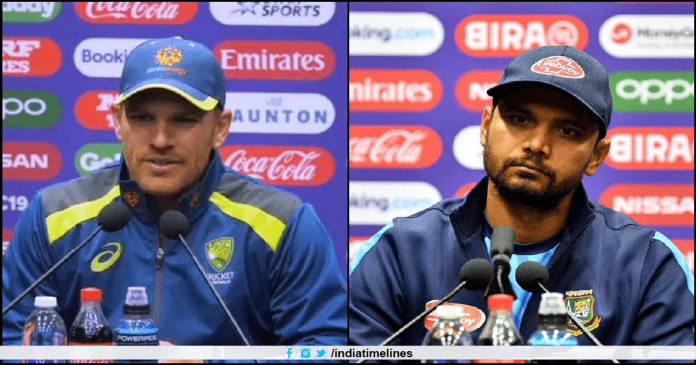 Australia vs Bangladesh World Cup 2019- Defending champion Australia will face Bangladesh in Nottingham on Thursday in the 26th World Cup match. Both teams will be face-to-face for the first time since the 2007 World Cup. Australia had won the last time. In this match, the Bangladeshi team will be going to win the second consecutive match. He had defeated the West Indies two times in the last match. At the same time, Australia's team will go for the fifth win.
The Australian team lost just one match in this tournament. It was defeated by India. He has won all the matches except for this match. Afghanistan got 7 wickets in the first match, the West Indies 15 runs in the second match, Pakistan 41 runs in the third match, and in the fourth match by defeating Sri Lanka by 87 runs. At the same time, Bangladesh team won two out of 5 matches. He defeated South Africa and the West Indies. He had to face defeat against New Zealand and England. One match was cancelled.
Australia vs Bangladesh World Cup 2019 Live Updates
A total of 20 ODIs have been played between the two teams so far. Of these, Australia's team won 18 matches. Bangladesh has only been successful in only one match. There was no result in a match. Two matches have been played between the two teams in the World Cup so far. Both won the same in Australia.
Weather and Pitch Report: Birmingham is expected to rain all day long. The sky will remain cloudy during the match. The temperature will be around 12 to 15 degree Celsius. The team that batted 24 times in 51 ODIs at the ground, won. The average score on the field in the last five ODIs is 295.
Strength of Australia
Mitchell Starc: Fast bowler Mitchell has so far taken 13 wickets in the World Cup, taking 35 wickets. His compatriot Brett Lee had achieved so many wickets in 17 matches. Now only Glenn McGrath (71 wickets) in the Australian players is ahead of him. Stark took four wickets in the World Cup twice and five wickets twice Their average is also 13.51.
Aaron Finch: Aaron Finch is the top scorer in this World Cup with 343 runs in 5 innings for Australia. During this period they have an average of 92 and strike rate of 110. In this World Cup, he proved his worth as a captain by making 66 against Afghanistan, 82 against Pakistan and 153 against Sri Lanka.
The weakness of Australia, Australia vs Bangladesh World Cup 2019
Usman Khawaja's out-of-form: Usman Khawaja is not included in the top-5 scorer of the team. He has not been able to make even a single half-century in the tournament so far. He scored only 98 runs in 5 matches. During this period, his average was 19.60 and the strike rate was 85.96. Their equal runs were made by fast bowler Nathan Coulter-Nile (98 runs). Coulter Nile also has a half-century in the account.
Strength of Bangladesh
Shakib Al Hasan: The world's number one all-rounder Shakib has done the best so far in the tournament. They are at the top in terms of making the most runs. He has scored 384 runs in four matches at an average of 128. During this period, their strike rate was 103.78. He made an unbeaten century against the West Indies in the last match. Shakib has performed well in bowling too. His name is 5 wickets from 5.84 economies.
Mohammad Saifuddin: While in the team of Mashrafe Mortaza and Mustafizur Rehman, Saifuddin impressed everyone on his fast bowling. He has taken more wickets than both the experienced bowler of the team. Saifuddin took 9 wickets in 4 matches. However, Murtaza's name is another of Mustafizur's name, only seven wickets. Saifuddin has given only runs from the economy of 7.29. For the latest updates, you can visit www.indiatimeliines.com.
Bangladesh's weakness
Gentle government out-of-form: The performance of an opener gentle government in the team's experienced batsmen has been average in this tournament. He scored just 98 runs in four matches. During this period, their average is 24.50 and the strike rate is 113.95. They would like to make a big score for the team in this match and return to the form. Bangladesh would expect them to start well against a strong team like Australia.
Australia vs Bangladesh World Cup 2019- Both teams
Bangladesh: Musharraf Murtaza (captain), Tamim Iqbal, Liton Das, Shakib Al Hasan, Mushfikur Rahim (wicketkeeper), Soumya Sarkar, Shabbir Rahman, Mehdi Hassan, Mahmudullah, Mustafizur Rehman, Rubel Hussein, Mohammad Saifuddin, Mohammed Mithun, Abu Zayed, Mosadek Hussain
Australia: Aaron Finch (captain), Jason Behendorf, Alex Kerry, Nathan Coulter-Nile, Pat Cummins, Usmana Khawaja, Nathan Lyon, Shaun Marsh, Glenn Maxwell, Ken Richardson, Steve Smith, David Warner, Mitchell Starc, Marx Stoney, Adam Jumpa.