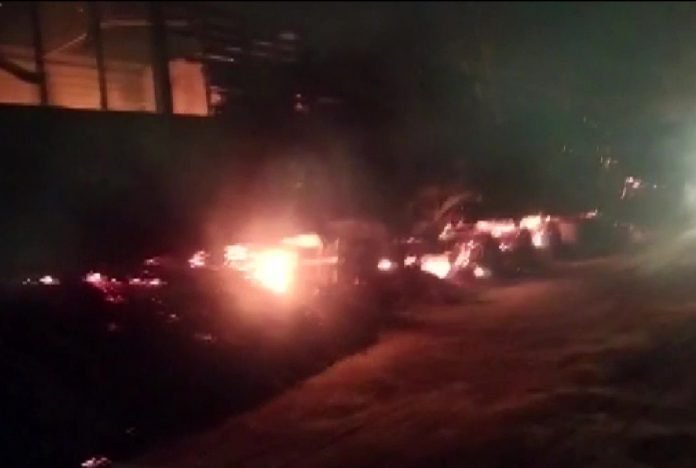 Assam smolders again in violence: 7 trucks set on fire, 5 drivers burnt alive; Police suspects- Suspected militants torched seven trucks near Diyungbra in Assam's Dima Hasao district on Thursday night. Five truck drivers were burnt to death due to this. According to the report, the suspected militants also fired several rounds before the arson. The police team reached the spot and recovered five bodies. The incident took place at a distance of about 200 km from the capital Guwahati.
Assam Police said that the militant group Dimasa National Liberation Army (DNLA) could be behind the incident. The SP of the district said that a massive search operation is going on in the area after the incident. The help of Assam Rifles is being taken to nab the miscreants.
Violence over border dispute between Assam and Mizoram
A few days ago, 6 people, including 5 policemen, were killed in a border dispute between Assam and Mizoram. There was a clash between the police and citizens of both states. First sticks were fired from both sides, when the matter escalated, the police fired tear gas shells. Meanwhile, firing also took place. After the violence, the CRPF had to be deployed on the disputed border between Assam and Mizoram amid tension.
7 DNLA militants killed in a joint operation in May
Earlier in May, seven DNLA militants were killed in a joint operation by the Assam Rifles and the state police. The encounter took place in West Karbi Anglong district bordering Nagaland. The security forces had received information about the hiding of militants here. After this, the search operation was carried out.
During this, the militants started firing. In retaliation, 7 miscreants were killed. Also, two of his companions were seriously injured in the encounter. According to the police, a large quantity of ammunition and 4 AK-47s were recovered from the slain militants.
DNLA is more active in Dima Hasao, West Karbi Anglong district
The name of the head of this militant organization is Naisodao Dimasa and the name of the secretary is Kharmindao Dimasa. This militant organization is active in Assam Kedima Hasao and West Karbi Anglong district. Earlier on May 19, DNLA militants had killed a youth in Dhansiri area. After this incident, the team of security forces conducted a massive search operation in this area.