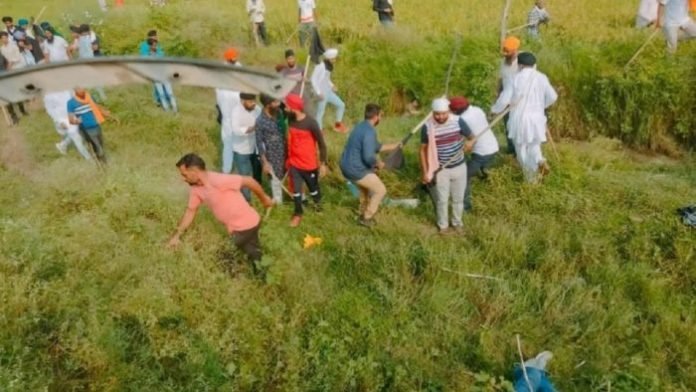 Ashish Mishra Monu interrogated in Lakhimpur Kheri case- accused of murder under 302- Ashish Mishra, accused of Lakhimpur Kheri incident, has finally reached the crime branch office. Ashish Mishra will be questioned about the whole matter at the police line located at Lakhimpur Kheri. It is being told that after interrogation, the police can arrest Ashish Mishra. Earlier, Ashish was called for questioning at 10 am on Friday but he remained absent for the whole day. Meanwhile, news broke that he had fled to Nepal.
Ashish Mishra had reached the crime branch office at 10.38 am, 22 minutes before the deadline. The Crime Branch has prepared a list of about 32 questions for questioning Ashish Mishra. The interrogation of Ashish Mishra will also be videographed.
On the other hand, BJP workers have gathered outside Ajay Mishra Teni's office in support of his son. Supporters of Ashish Mishra, who gathered outside the office, say that there is no evidence against Monu Bhaiya. He was present at the site of the riot at the time of the incident and without evidence he cannot be arrested.
Supporters shout slogans outside Ajay Mishra's office
A supporter said, "Monu Bhaiya was not present, he was at the site of the riot. No evidence has been found against him. Another supporter said, 'Whoever was killed with sticks were not the sons of the farmer. A political arena is being built to win Lucknow. Another supporter said, "The vehicles were not deliberately rammed, the vehicles were hit, the driver was hit, the car disassembled, then the car has rolled around." Ashish's legal advisor Awadhesh Kumar said, "We respect the notice sent by the police and will cooperate fully in the investigation."
Ajay Mishra said – my son is innocent
On interrogation of the son, the father Union Minister of State for Home Ajay Mishra Teni said, we know that he is innocent. He was not even present at the scene. Went only for questioning. On Friday, a notice was sent to Ashish Mishra again after he did not come for questioning. This notice was to appear in the crime branch by 11 o'clock on Saturday. On this Ajay Mishra, Teni had said that he has not run anywhere, will reach the police on Saturday. Ajay Kumar Mishra 'Teni' had said that his son was innocent and said that his son was ill and he would appear before the police on Saturday.