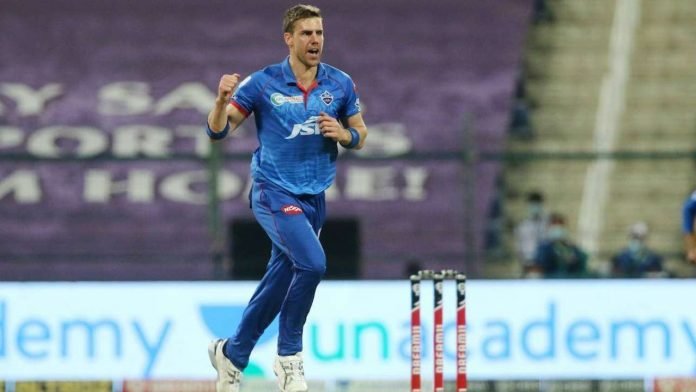 Anrich Nortje COVID-19 Positive: Big shock to Delhi Capitals- The Delhi Capitals, who were among the contenders to win the 2021 season of the Indian Premier League (IPL), suffered another major setback. His leading fast bowler Enrich Nortje has been hit by the pandemic Kovid-19. Earlier, the team's spin all-rounder Akshar Patel was hit by the corona virus, while the team's regular captain Shreyas Iyer was forced out of the tournament due to injury.
According to ANI, the cricketer had come to India with a negative report and was hit by the Kovid-19 when he was tested during the quarantine period. He was in the compulsory quarantine of seven days after his arrival in India.
In the absence of Shreyas Iyer, the team is being captained by Rishabh Pant and defeated Chennai Super Kings in their first match of the tournament. The team had hoped that it would support Enrique in the next match, but found it difficult after being found Corona positive.
If the regular captain is not there, it is really a big shock for the franchisees to stay out of the team like this. Let us know that Enrique joined the team last season as a replacement for Chris Woakes. He played a key role in leading the team to the final, taking 22 wickets in 16 matches. The Delhi fans were eager to see him bowling alongside Kogiso Rabada.
After playing second ODI with Pakistan, both came to Mumbai together
According to sources, South African players Enrique Norkhia and Kagiso Rabada left for Mumbai on 5 April to participate in the 14th season of the IPL after playing the second ODI with Pakistan on 4 April. The two players joined the team in Mumbai on 6 April and went on a 7-day quarantine under the Corona Protocol rules of the Board of Control for Cricket in India (BCCI). According to sources, in the report dated April 12, the Norkhia corona has been found infected. However, the report of Rabada is negative. According to sources, Rabada is also suspected of playing some of the upcoming matches, as he spent about 7 hours together with Norkhia during an air trip.
KKR and Royal Challengers Bangalore players have also become Corona positive
Kolkata Knight Riders batsman Nitish Rana, Royal Challengers Bangalore batsman Devdutt Padikkal, Daniel Samms and Akshar Patel of Delhi Capitals have also been infected with Corona before the IPL's 14th season began. However both players have joined the team after the Corona report came negative. Nitish Rana has also played two matches for KKR and has scored two consecutive half-centuries. However, Padikkal is yet to play the match. He is expected to be included in the playing eleven in the match with Sunrisers Hyderabad on Wednesday.