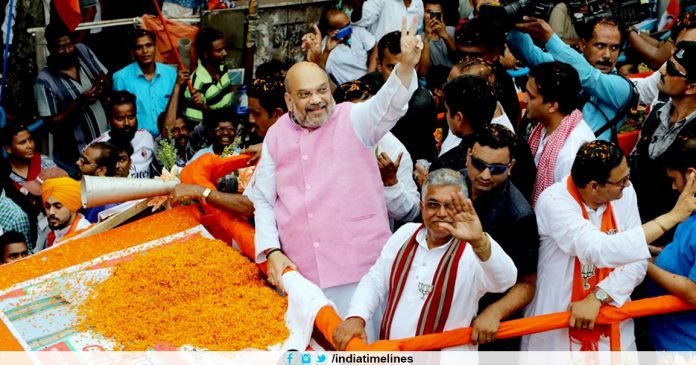 Amit Shah took charge on coal crisis- meeting of ministers convened- NTPC officers also present- Home Minister Amit Shah himself has become active on the issue of the shortage of coal in the country's thermal power plants. On Monday, Energy Minister RK Singh, Coal Minister Prahlad Joshi reached his residence to meet on the issue. Along with both the Union Ministers, officers of their ministries were also present. NTPC officials are also participating in this important meeting. Let us inform you that many states including Rajasthan, Delhi, Punjab, UP have cited the shortage of coal and said that if the crisis continues, then the power supply may be cut in the coming days.
Not only this, the AAP government of Delhi has made a scathing attack on the central government on this issue. On Sunday, Deputy CM Manish Sisodia had said that the central government was avoiding this crisis in the same way as it had not focused on the issue of lack of oxygen. However, responding to all such comments, Union Energy Minister RK Singh had said that at present, the country's coal power plants have reserves of 7.2 million tonnes. Coal plants have sufficient reserves, which is enough for 4 days. Not only this, he had also termed the news of the threat of blackout in many states of the country as wrong.
Energy Minister dismissed the crisis, but the movements are telling that it is difficult
He said that the state-owned Coal India also has reserves of 40 million tonnes at present, which is being supplied to power stations. The Ministry of Power had said that the talk of shortfall or interruption in the power supply is completely wrong. Let us tell you that in the last few months, due to the relaxation in the lockdown, the industry has started rapidly. This has increased the consumption of coal. At the same time, due to excessive rains, coal mining has been affected in many areas. Because of this, there is a shortfall in the supply of coal.
70 percent of power plants depend on coal
Let us tell you that 70 percent of the electricity generation in India is done through coal-based power plants. In such a situation, this crisis is unprecedented and if it deepens, then there may be a power crisis in many states. Like India, the coal crisis has also been seen in China. Many companies in China have reduced production. Not only this, the power supply has also been reduced in many states.