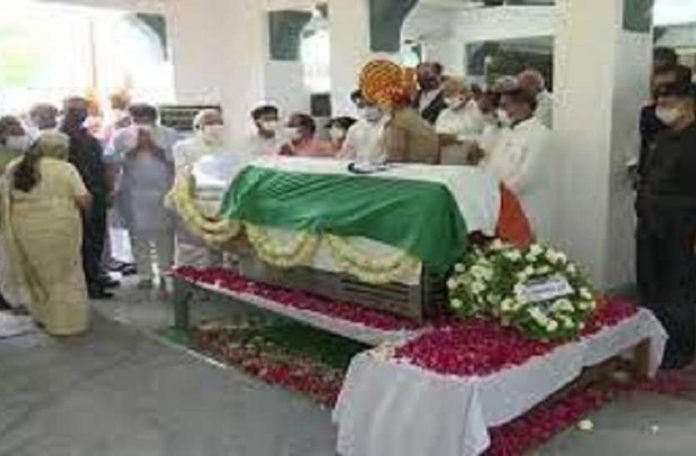 Amit Shah arrives at Kalyan Singh's last rites – funeral will be held in ancestral village- The last rites of former Uttar Pradesh Chief Minister Kalyan Singh will be performed today (23 August) at Rajghat in Bulandshahr district with full state honors. His body has reached PWD Guest House in Atrauli from Ahilyabai Holkar Stadium in Aligarh, where Union Home Minister Amit Shah, Madhya Pradesh Chief Minister Shivraj Singh Chouhan, Uttar Pradesh Chief Minister Yogi Adityanath, Union Minister General VK Singh, Prahlad Patel, BJP Many big personalities including the state president of Swatantra Dev Singh paid tribute.
Kalyan Singh passed away at the age of 89
Kalyan Singh, former Chief Minister of Uttar Pradesh and former Governor of Rajasthan, died on Saturday (August 21) at 9.15 pm at SGPGI in Lucknow. He was 89 years old and had been ill for a long time. Many prominent leaders of the country, including Prime Minister Narendra Modi, reached Lucknow on Sunday and paid tribute to Kalyan Singh after paying his last respects.
many organs stopped working
Kalyan Singh was admitted to the Intensive Care Unit (ICU) of SGPGI on July 4 last due to infection and some other health problems. Several parts of his body had stopped working and he died on Saturday night.
He was one of the prominent leaders of the Ram Mandir movement.
Kalyan Singh was one of the prominent leaders of the Ram temple movement and was the Chief Minister of Uttar Pradesh when the disputed structure in Ayodhya was demolished on 6 December 1992. After this incident, Kalyan Singh had resigned from the post of Chief Minister. In September last year, he along with BJP stalwarts LK Advani and Murli Manohar Joshi were acquitted in a demolition case in which 32 others, including him, were accused of demolishing structures. He was instrumental in bringing the BJP to power in Uttar Pradesh in the 1990s.