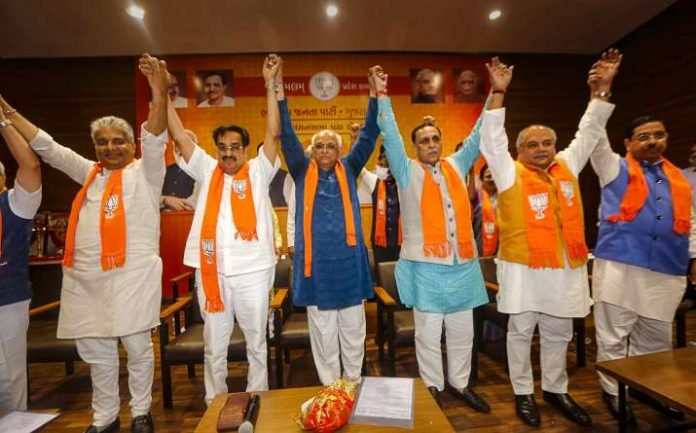 Almost all ministers will move in Gujarat? Dissatisfied reached Vijay Rupani's house: Reports- The swearing-in of new ministers to be held at 2 pm today in Gujarat has been postponed for a few hours. It is being claimed in media reports that there will be about 90 percent, new ministers, in the new CM Bhupendra Patel's cabinet, due to which the swearing-in has been postponed. Now it could be 5 pm. According to reports, Bhupendra Patel wants to replace the entire cabinet of Rupani, due to which the controversy in the party has increased.
Let us tell you that speculations are being made that the leave of many senior leaders in Bhupendra Patel's cabinet is fixed. Among them was the name of Nitin Patel, who was deputy CM during Vijay Rupani's tenure. Meanwhile, the dissatisfied ministers had reached the house of former CM Vijay Rupani due to the fear of being removed, where the meeting continued for a long time.
Earlier, Bharatiya Janata Party (BJP) spokesperson Yamal Vyas had said that the oath of office and secrecy would be administered to the new ministers joining the Bhupendra Patel cabinet in Gandhinagar at around 2 pm today. The names of the new ministers have not been announced yet. There is speculation that Patel will induct many new faces in his cabinet and that many old leaders may have to clear space for younger leaders. In such a situation, the suspense remains on a name like Nitin Patel.
Bhupendra Patel took over as the Chief Minister of Gujarat on Monday following the sudden resignation of Vijay Rupani on Saturday. Only the Chief Minister took an oath that day.