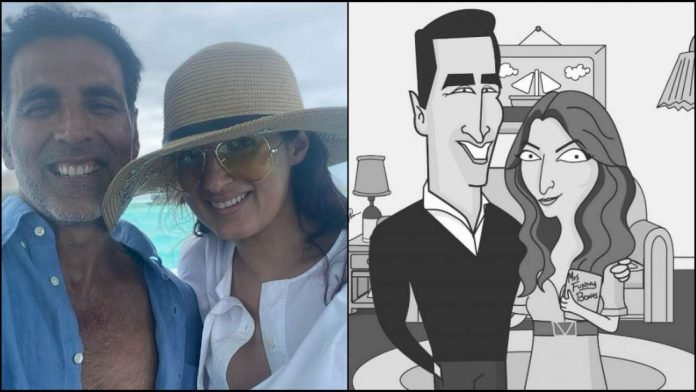 Bollywood actor Akshay Kumar's corona report has come negative. Today these actors have reached home after being discharged from the hospital. Akshay Kumar's wife Twinkle Khanna has given this information through social media.
Twinkle has told through a post on Instagram that everything is fine and everyone is happy to see Akshay Kumar at home.
Twinkle posted the cartoon and wrote- 'Healthy and safe … it is nice to see them around me'. Along with this, he has also given the tag of #alliswell that is all right. Akshay's fans are very happy to see this post. Many fans are thanking God, while some commented and wrote – 'Great news'. Returning home to Akshay's corona negative is indeed great news for his fans.
Let us tell you that Akshay Kumar was admitted in the hospital on Sunday. Akshay Kumar had reported about being admitted in the hospital. He wrote on Twitter, "Your prayers are being affected. I am fine but I have been advised to be admitted to the hospital as a precautionary measure. I have been admitted. I Will be back soon You guys should take care of yourself. "Akshay Dr. H.L. He was admitted in Hiranandani Hospital.
Let us tell you that these days Akshay Kumar was shooting for the film Ram Sethu. During this time, he was infected with Corona.
Akshay Kumar gave information through social media after being corona positive. In a post, Akshay Kumar told, "I want to inform all of you that this morning my Kovid 19 report has come positive. I have isolated myself by following all the protocols. I am a quarantine at home and taking all the necessary medical care. I request that all those who have come in contact with me get their tests done and take care of themselves. Will be back in action soon. "