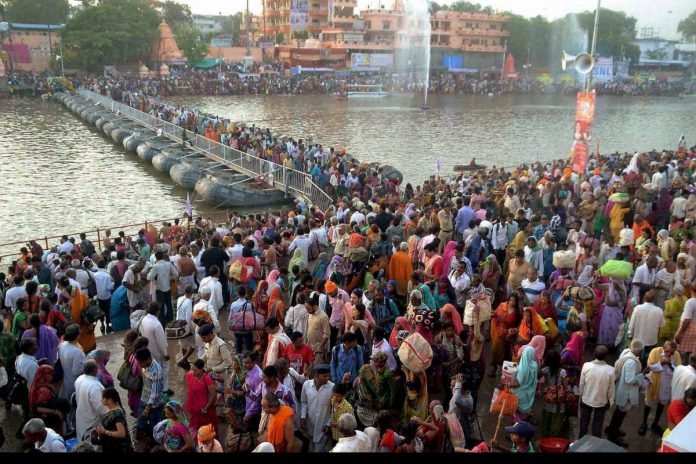 Haridwar Kumbh 2021: Mahamandaleshwar Swami Awadheshanand of Juna Akhara spoke to the media after Prime Minister Narendra Modi appealed to keep the Kumbh symbolic. Refusing to eliminate the dumb. Seeing Corona appealed to the devotees not to come in large numbers.
During the Kumbh Mela in Haridwar, Uttarakhand, Prime Minister Narendra Modi today appealed to the common people to keep the Kumbh symbolic, due to the increasing news of corona infection. PM Modi appealed to the people to cooperate in this crisis period after the news of corona infection in large number of devotees in Haridwar. After PM Modi's appeal, Mahamandaleshwar Swami Awadheshanand interacted with the media. During this, the head of Juna Akhara said that the Kumbh is not yet over. However, Swami Awadheshanand said that the elderly and children should not come to the royal bath. The saint community is with the restless people, they should have their bath He said that Kumbh will not end, we request that devotees come in small numbers.
Mahamandaleshwar said that the Home Minister has been talked twice about Kumbh. The Prime Minister also received a call this morning. He talked about the condition of saints and the method of worship. Regarding the news of ending Kumbh, he said that faith is a big thing, so they are not ending Kumbh. Regarding the corona infection, Swami Awadheshanand said that neither the country nor the state is untouched by the new strain of the virus. Corona has not spread from our ashram, but in view of the infection, now those coming to the ashram will have to bring negative reports.
Let us tell you that during the Kumbh Mela held in Haridwar, a large number of devotees are continuously coming from all over the country. Haridwar is also witnessing an increase in the number of infected patients continuously during this event held in the coronary. In view of this, earlier today Prime Minister Narendra Modi appealed people not to come in large numbers in Kumbh Mela. Mahamandaleshwar Swami Awadheshanand tweeted through social media and appealed to the devotees to protect life more than coming to Kumbh in large numbers. Therefore, all the devotees should follow the Corona Guideline and avoid coming to Kumbh in large numbers.
Demand for postponement was starting to arise
Mahamandaleshwar said in his tweet, 'We honor the call of Hon'ble Prime Minister. Protecting life is a great virtue. My Dharma Parayana urges the public not to go for a bath and discharge the rules in large numbers in view of the circumstances of Kovid. Let us tell you that in Haridwar, during the Kumbh Mela, more than 31 lakh and 14 lakh devotees, respectively, had taken a dip in the Ganges at the two royal bathing programs. Earlier this week, after the arrival of more than 1000 Corona positive cases in Haridwar for two consecutive days, there was a demand to postpone the event like Kumbh from all over the country.