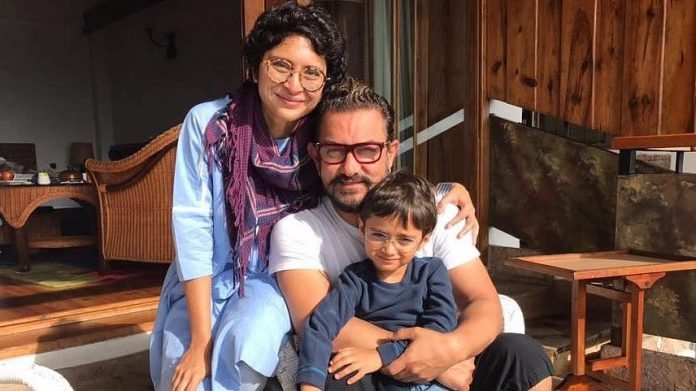 Aamir-Kiran divorced – people made a mess by holding Fatima Sana Shaikh responsible- On July 3, it was reported that actor Aamir Khan and his director wife Kiran Rao have decided to divorce. After 15 years of marriage, both of them decided to separate by mutual consent. As soon as this news came, #AamirKhan trended on Twitter, as well as #FatimaSanaShaikh also started trending. Fatima Sana Shaikh, the actress with Dangal and Thugs of Hindostan. People started trolling, blaming Fatima for Aamir-Kiran's divorce. Read some comments, you will understand how much smell was spread on Twitter about this matter.
A user named Romeo wrote – What is this? This man used to host Satyamev Jayate! I think it has left Kiran for Fatima. Tingu's bus height is short, his exploits are big.
A user named Amit Sharma wrote that Aamir Khan changes his wife every 15 years. First wife Reena Dutta 15 years. Second wife Kiran will be 15 years and now third #FatimaSanaShaikh. Love Jihad is a reality.
One user has crossed the limit. He also told Zaira Wasim to be Aamir's fourth wife. wrote-
1- 1986- Reena Dutta
2- 2005- Kiran Rao
3- 2022- #Fatima Sana Shaikh
A user running a Twitter handle named Green Earth wrote that after divorce from Kiran Rao, now Fatima Sana Shaikh, who is the heroine of Dangal, can be the new wife of Aamir Khan.
One wrote that congratulations to Aamir Khan and Fatima Sana in advance. Hope this one lasts and lasts a long time.
One user wrote that Famita Sana Shaikh has a hand in separating the two, that is, separating Aamir and Kiran.
One user wrote that Fatima Sana Shaikh is the reason for Aamir Khan's divorce. Basically, men cannot do any wrong unless a woman comes into their life.
There were rumors about Aamir and Fatima's relationship earlier as well. When Fatima's name was suggested by Aamir for 'Thugs of Hindostan', it was said that the two were dating each other. Then in an interview, Fatima had said while giving her side-
"I used to care about these things earlier. Unknown people write about me without knowing me and the readers think that I am not a good person. They don't know what the truth is. I have learned to ignore these things. I don't want people to think bad things about me. So sometimes it does make a difference."
Look, there are many problems with the kind of judgmental thinking that is being written on Twitter. First- tossing someone's name without any solid basis is a dirty thing. The second problem – even if there is a solid basis, it is a dirty thing to poke your nose into someone's personal issue. Third problem – Bringing caste and religion in the middle on that too is a dirty thing. Now the problem with the people of social media is that they are desperate for character assignment.
Aamir got divorced. After this also shared a video that he and Kiran are like a family, happy. There has been a slight change in the name of the relationship. But it doesn't matter to the people of social media. He accepts the same 'script' that his mind has created. Fatima worked with Aamir in 'Dangal' and 'Thugs of Hindostan', was seen at Aamir's party, some pictures of both came out and the public of social media assumed that Kiran's marriage was broken because of Fatima. And this will be Aamir's next wife.
When did Aamir Khan get married?
Well, let us tell that Kiran Rao met Aamir Khan during Ashutosh Gowariker's film 'Lagaan'. Kiran Rao was the assistant director in the film 'Lagaan'. Both fell in love and both got married on 28 December 2005. Azad was born in 2011 with the help of surrogacy. In this marriage of 15 years, Kiran and Aamir have seen many ups and downs and have faced many things together. Before Kiran, Aamir Khan was married to Reena Dutta. Aamir Khan has two children with Reena Dutta – Ayra Khan and Junaid Khan. Both got divorced in 2002.