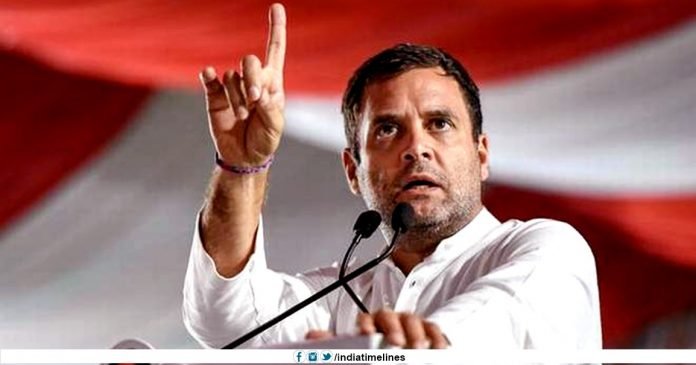 85 lakh vaccine in 1 day: Rahul said – good: but sitting with Surjewala tightened his taunt on Modi- Congress MP Rahul Gandhi once again surrounded the central government on the issue of Corona. In Tuesday's press conference, Rahul Gandhi warned about the third wave of Corona and also said that in the past the government ignored the suggestions. Rahul Gandhi said that the third wave of Corona is about to come and we are again saying that the government should prepare in advance. At the same time, on the record of vaccination for one day, he said that it is not a matter of one day.
During the press conference, when Rahul Gandhi was asked a question on 85 lakh vaccinations in a day in the country, he said, 'Yes, good work has been done yesterday. But this has not happened consistently. We have a big target in front of us. Not one day, until the entire country is vaccinated, then this pace should be maintained.
Randeep Surjewala, who was present at the video conference, agreed with Rahul Gandhi and said that we are very happy with tomorrow's vaccination. The record of maximum vaccination in the country is 170 million vaccinations, which was made during the Pulse Polio campaign. It was 19 February 2012. But then Manmohan Singh did not put up his posters. This is the big difference between then and now.
Adding to this, Rahul said that the central government should look at all the states with equal eyes. It should not be considered a BJP or Congress-ruled state. All states need equal help. At the same time, in view of Corona, Rahul Gandhi also gave suggestions to the government-
Oxygen supply has to be increased, health services should be improved.
The goal of vaccination has to be met.
Fund was created for compensation on death from Corona.
All states should get equal help against Corona, there should be no discrimination in vaccine distribution.
Rahul Gandhi said that today we are standing there again. The whole country knows that the third wave is coming. The virus is mutating and there will be a third wave. We are again saying that the government should make full preparations for the third wave. The hospital and medicines which were not arranged in the second wave, should be done in the third wave. The Congress President said that during the Corona period, the focus of PM Modi was not on controlling the epidemic but on elections. He said that the government could not provide oxygen to the people.