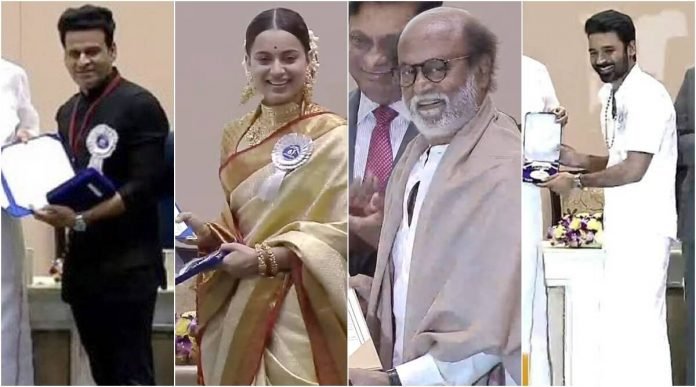 The 67th National Film Awards ceremony was held at Vigyan Bhawan. Vice President Venkaiah Naidu honored the winners by giving 'Swarna Kamal and Rajat Lotus, Shawl and prize money'. Manoj Bajpayee, Kangana Ranaut and Dhanush were awarded for their best performances. Chhichhore won the Best Hindi Film Award. Nitesh Tiwari, director of Sushant Singh Rajput's film Chhichhore, was honored. The 67th National Film Awards were announced in March 2021. Kangana arrived to receive the award with her mother and father.
Superstar Rajinikanth was honored with the 51st Dadasaheb Phalke Award. During this, all the people present in Vigyan Bhavan stood up for him and applauded.
These artists will get the award-
Best Actress – Kangana Ranaut
Actress Kangana Ranaut has once again received the Best Actress Award. She was honored for Manikarnika released on 25 January 2019 and Panga on 24 January 2020.
Best Actor – Manoj Bajpayee
Manoj Bajpayee has received the Best Actor Award for Bhonsle. He won the Best Actor award for his role of Manoj Bajpayee in a drama film written and directed by Devashish Makhija.
Best Biographical Film – Elephant Do Remember
'Elephant Do Remember' directed by Swati Pandey has won the award for Best Biographical Film.
Best Supporting Actor – Vijay Sethupathi
South actor Vijay Sethupathi has been given the National Award for Best Supporting Actor. He was awarded for the Tamil film 'Super Deluxe', which released on 29 March 2019. Thiagarajan Kumar Raja directed the film.
Best Supporting Actress – Pallavi Joshi
South actress Pallavi Joshi has been honored with the National Award for her role in 'The Tashkent Files'. Directed by Vivek Agnihotri, the film was released on 12 April 2019. The film with a budget of 4 crores had a box office collection of more than 20 crores.
Other Awards –
Best Film Friendly State – Sikkim
Best Book on Cinema – A Gandhian Affair: India's Curious Portrait of Love in Cinema by Sanjay Suri
Best Film Critic – Sohini Chattopadhyay
feature films
Special Mention – Biryani (Malayalam), Jonaki Porua (Assamese), Lata Bhagwan Kare (Marathi), Picasso (Marathi)
Best Tulu Film – Pinjara
Best Paniya Film – Kenjira
Best Mishing Film – Anu Ruwad
Best Khasi Film – Levdah
Best Haryanvi Film – Chhoriyaan is not less than the ends
Best Chhattisgarhi Film – Bhulan The Maje
Best Telugu Film – Jersey
Best Tamil Film – Asuran
Best Hindi Film – Chhichhore
Best Marathi Film – Bardo
Best Bengali Film – Gumnami
non feature film category
Best Narration – Wild Karnataka, Sir David Attenberg
Best Editing – Shut Up Sona, Arjun Gaurisarai
Best Autobiography – Radha, Allwyn Rego and Sanjay Maurya
Best On-Location Sound Recordist – Rahas, Saptarishi Sarkar
Best Cinematography – Sonsi, Savita Singh
Best Direction – Knock Knock Knock, Sudhanshu Sariya
Family Values ​​- Oru Pathira Swapanam Pole (Malayalam)
Best Short Fiction Film – Custody
Special Jury Award – Small Scale Societies
Best Animation Film – Radha
Best Investigative Film – Jakkal
Best Exploration Film – Wild Karnataka
Best Education Film – Apples and Oranges
Best Film on Sakal Issues – Holy Rights, Laadli
Best Action Direction Award
Stunt – Avane Srimannarayana (Kannada)
Best Choreography – Maharshi (Telugu)
Best Special Effects – Markarkar
Special Jury Award – Ottha SeruppuSize – 7 (Tamil)
Best Lyrics – Kolumbi (Malayalam)
Best Screenplay
Original Screenplay – Jyesthoputri
Adapted Screenplay – Oblivion
Dialogue Writer – The Tashkent Files
Best Cinematography – Jallikattu
Best Female Playback Singer – Bardo
Best Male Playback Singer – B Praak, Kesari, Teri Mitti
Best Supporting Actress – Pallavi Joshi, The Tashkent Files
Best Supporting Actor – Vijay Sethupathi, Super Deluxe
Best Actress – Kangana Ranaut
Best Actor – Manoj Bajpayee and Dhanush
Best Direction – Seventy Bahata Hooreen
Best Children's Film – Kasturi