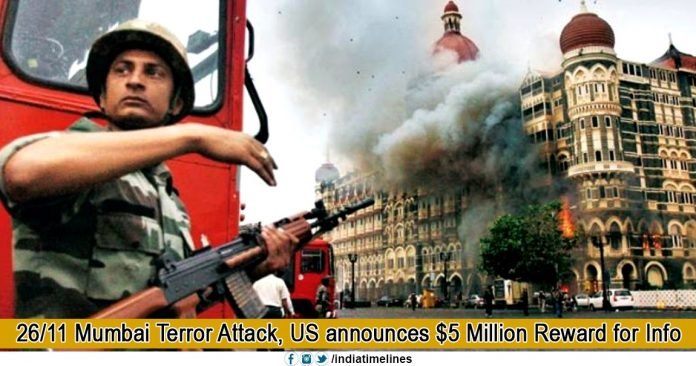 26/11 Mumbai Terror Attack:- Washington:  The US has announced a reward of $ 5 million (more than Rs 35 crores) for the plotting of the assault on the Mumbai attack in 2008, and the information of the facilitator. On the 10th anniversary of the Mumbai attacks, the reward of this amount of money has been announced by the Trump Administration. Lashkar-e-Taiba terrorists who came to Mumbai on November 26, 2008, carried out the attack.
26/11 Mumbai Terror Attack
166 people were killed in the attack on the country's financial capital. 6 U.S. citizens were also included in the dead. This important announcement has already been made before a fortnight passed with the meeting of US Vice President Mike Pence with PM Narendra Modi in Singapore. It is believed that during this meeting, Pence had expressed concern over raising the issue himself that even after 10 years, the conspirators of the Mumbai attack could not get the punishment.
The US Rewards For Justice Department (RFJ) announced on Monday the reward that information related to the Mumbai attack, the identity of the conspiracy associated with it, arrest or punishment will be given to the recipient who will be given a reward of up to five million dollars. It was said in the announcement that between 26 and 29 November, 10 LeT militants planned and organized in many places in Mumbai.
On behalf of the Department, it was said that the US has identified the culprits with their international partners and is working to get them punished. RFJ has announced the reward for the third time. Earlier, in 2012, Lashkar founder Hafiz Mohammad Saeed, along with Hafiz Abdul Rehman Makki, was announced to reward the people of the Lashkar-e-Taiba leaders and others.
In 2001, Lashkar-e-Taiba was considered to be a foreign terrorist organization in America. In May 2005, the United Nations had included Lashkar-e-Taiba in the list of prohibited organizations. RFJ has stated in its statement that information related to the Mumbai attack can be given by the website, email (info@rewardsforjustice.net), phone (800-877-3927 North America). Apart from this, a person can get information from Regional Security Officer in his nearest US embassy.