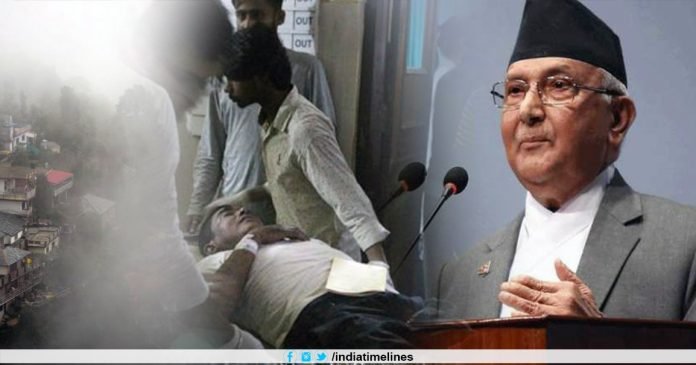 25 killed and 400 injured as rainstorm hits Nepal: The official said Kathmandu: at least 25 people were killed and 400 others injured due to heavy rain in several villages in Southern Nepal. According to the officials of the Ministry of Home Affairs,  Strom Destroyed many villages of Bara and Parsa districts on Sunday Evening. He said that when 24 persons died in 12 districts in 128 km south of-of Kathmandu, then one person was killed in Bara and Parsa District.
National Emergency operation center said that the injured were being treated in various health facilities. Prime Minister K P Sharma  Oli expressed grief over the loss of life and expressed heartfelt condolences to the bereaved Families. Oli said on Twitter that he was reported to have killed 25 people and injured 400.
25 killed and 400 injured as rainstorm hits Nepal
According to the National Emergency Operation Center, the injured are undergoing treatment in various health services. Security personnel has been deployed in the affected areas to do rescue and relief operations.
Prime Minister's Chief Advisor Bishnu Rimal said that army personnel has rallied. "Two battalions have been mobiliSed there immediately, here at Mid Air Base, Kathmandu, night vision helicopters are standing with the rescue team. Our security agencies are waiting for favorable weather conditions (SIC).
Rescuers struggle to reach the storm-hit area, at least 27 dead, Nepal Thunderstorm Rescue teams were struggling to reach villages in southern Nepal on Monday, a storm killed 27 people and hundreds injured.
Fierce winds shed the cars and blew up a passenger bus on the highway, causing a fatal accident. Police said that collapsing walls and bricks in houses fell and trees and electric poles were broken. For the latest updates and trending news, you can visit www.indiatimelines.com.
25 killed and 400 injured as rainstorm hits Nepal, There was a storm in the rainy season in a farming area in Baram and Parsa districts in southern Nepal. In Bara, Government Administrator Rajesh Poudel said on Monday morning that 27 people were killed there. Administrator Narayan Bhattarai said that a person died in neighboring Parsa. Prime Minister Khadga Prasad Oli had earlier told about 400 other wounded on Twitter.
Police officer Sanu Ram Bhattarai said that the police officers and soldiers of neighboring areas had reached. Poudel first said about 120 kilometers (75 miles) south of capital Kathmandu. Local televisions were brought to the hospital with cars, ambulances and even motorcycles, but in many villages trees and electric poles fell on the streets. Most people in the district are a farmer.