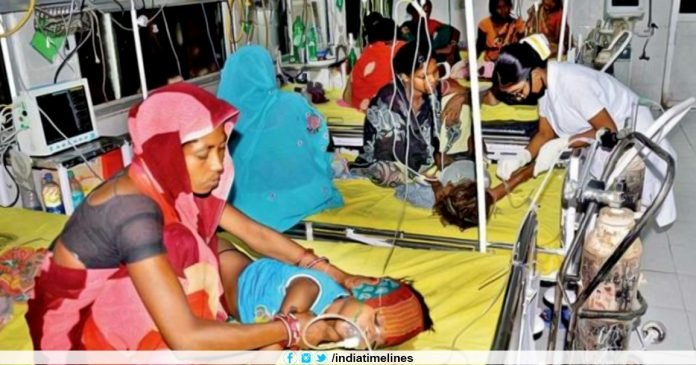 138 Deaths So Far Due To Encephalitis Fever- There is a continuation of the death of children from the Encephalitis Fever (AES) that took the form of pandemic in districts of Muzaffarpur and its adjoining areas of north Bihar. On the 17th day, 10 children were diagnosed with this disease. Nine died in SKMCH and two died at Kejriwal Hospital. At the same time, one of the children of Bandra died on the way while bringing to the Kejriwal hospital.
Three children died during primary treatment in SKMCH's Emergency Ward. These children have two from Samastipur and one child from Begusarai district. At the same time 56 new sick children were recruited in both the hospitals. 38 new cancer patients are being treated at SKMCH and 18 new patients at Kejriwal Hospital under the AES fixed protocol.
138 Deaths So Far Due To Encephalitis Fever
So far 390 cases of Encephalitis fever have surfaced. Of these, 138 children have died. However, according to the report released by the Health Department in the evening, four children died on Monday. The report says 86 deaths have so far been reported. In late evening, SKMCH Superintendent Dr SK Shahi and CS Dr SP Singh released AES Bulletin. The report of SKMCH and Kejariwal Hospital has been included in this.
On the other hand, Bihar government minister Shyam Rajak visited the SKMCH and reviewed the treatment system. He told that doctors are treating their patients. The District Administration has also continued all efforts to its level consistently. The Chief Minister is also keeping a close eye on Patna. At the same time, former Union Minister Upendra Kushwaha also took stock of SKMCH accessibility conditions. He took information about the treatment of children from doctors. For latest updates, you can visit www.indiatimelines.com.
138 Deaths So Far Due To Encephalitis Fever – According to the doctors, children with Encephalitis fever are seeing dehydration and hypoglycemia i.e. lack of sugar. Below mention symptoms of Encephalitis Fever are seeing in Children or Adult-
Continuous fast fever
Constipation
Pain in Teeth
Tiredness
Fainting due to weakness
There is no activity or movement in the body
How to save yourself and your loved ones from the grip of a fever blaze? Learn how to defend-
Do not let the children eat fruitful and rotten fruits.
Do not let the children go to places where pigs live
Wash the hands with soap before and after the meal.
Keep drinking water clean
Do not let the nails of children grow
Do not go to dirty areas
Children should only eat healthy food
After dinner, light sweet foods
Keep your children hydrated