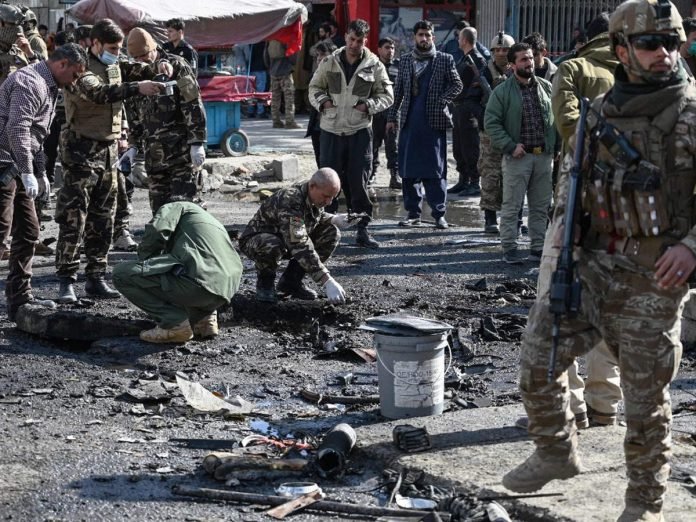 13 US soldiers also killed in Kabul blasts, Biden warns terrorists – will not forget, will not forgive- On Thursday, 13 US soldiers were killed in serial bombings near Kabul airport in Afghanistan. Twelve US Marines and a Navy medical personnel were involved in the horrific blasts at Kabul Airport. However, a total of 72 people are reported to have died in these bomb blasts so far. However, even after these blasts, America will not stop its evacuation operation. President Joe Biden has announced that the evacuation of American citizens from Afghanistan will continue.
Openly challenging terrorists after the Kabul bombings, US President Joe Biden said, 'We will not forgive. We will not forget. We will selectively hunt you down and kill you. You have to bear the consequences. He further said that no evidence has been found so far of complicity between the Taliban and Islamic State in the attacks on the Kabul airport. He said that we will rescue American citizens from Afghanistan. We will take out our Afghan allies and our mission will continue.
Here, two US officials said that more than 60 US Army personnel have been injured and their number may increase. At the same time, Russia's foreign ministry said two suicide bombers and gunmen targeted a crowd near the airport, killing at least 13 people and injuring dozens. However, it was not clear whether the figures provided by Russian officials included the number of US Marines killed.
An Italian organization that runs hospitals in Afghanistan said they were treating 60 people injured in the airport attack, while 10 others died on the way to the hospital. Marco Punatin, the institution's manager in Afghanistan, said surgeons would also serve at night. He said that the number of beds was being increased in view of the increasing number of injured.
India, Guterres-Johnson condemned
India has also condemned the Kabul blasts. UN Secretary-General Antonio Guterres has condemned the terrorist attack on Kabul airport. British Prime Minister Boris Johnson termed the attack as barbaric and said the evacuation operation needed to be continued swiftly. Let us tell you that one of the attackers attacked by targeting those people who were standing in a canal with water to their knees to escape the heat and during this the bodies were scattered in the water. People who had been expecting to board the plane until some time ago were seen carrying the injured in ambulances. His clothes were stained with blood.
ISIS hand in the attack: US
A US military official says it is "certainly believed" that the terrorist group Islamic State was behind the attack near Kabul airport. The Islamic State group is more extremist than the Taliban and has carried out numerous attacks on civilians. The military official has expressed the possibility of more such suicide attacks in Kabul.
ISIS-K has taken responsibility
According to site monitoring, the terrorist organization ISIS-K has claimed responsibility for the attacks on the Kabul airport. The terrorist organization has given this information through a Telegram account. At the same time, a US official said on condition of anonymity that despite the area being targeted, flights were being taken from Kabul airport for the evacuation operation.
France will cooperate with America
Meanwhile, French President Emmanuel Macron said the situation near Kabul airport had seriously deteriorated due to the blasts a few hours ago. "We are facing an extremely tense situation, in which we must coordinate with our American allies," Macron said in a press conference during his visit to Dublin, Ireland. France will continue to evacuate its citizens, people from other allies, and Afghans at the airport until the situation is favorable.