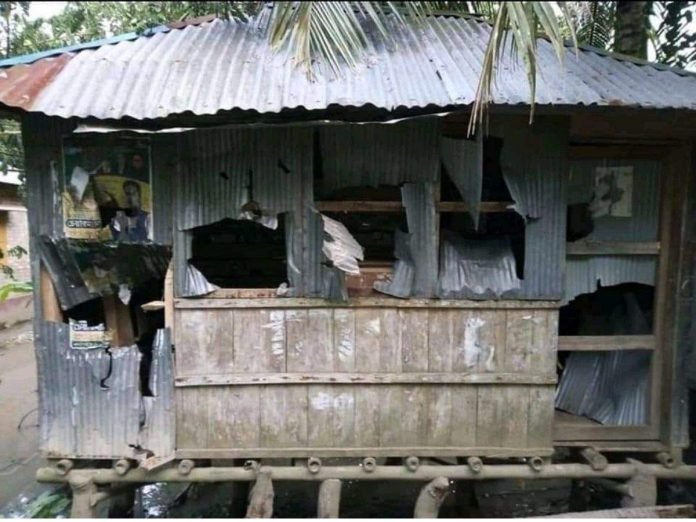 100 fundamentalists attacked Bangladeshi village: destroyed 50 Hindu houses and many temples- In Bangladesh's Khulna district, a mob of extremists targeted the homes of more than 50 Hindus. During this, the mob also engulfed and ransacked at least four temples. Attacks against minorities in Bangladesh have increased in recent years. One of the reasons for this is the increasing popularity of organizations like Hizmat-e-Islam in the country. In March, Prime Minister Narendra Modi also faced protests during his visit to Dhaka.
Maulvi opposed the religious procession
According to the Bengali language newspaper Samakal, a cleric of a local mosque protested a Hindu religious procession in Siyali village of the district on Friday evening. Following this, a mob of fundamentalists got enraged and attacked Hindu houses in the village on Saturday evening. Media reports quoting people present at the spot said that the angry mob allegedly included Muslims from nearby villages. The attackers used axes and other weapons during the attack.
10 people arrested
During this many Hindus protesting were injured. At present, the situation remains tense and law enforcement is probing the matter. The police have so far arrested 10 people in connection with the vandalism of several Hindu temples, houses and shops. Local community leaders say that for the first time any communal violence has been reported in the area. According to the police, about 100 attackers reached the village at around 5.45 pm on Saturday evening. They vandalized with weapons and destroyed four temples. Six shops and houses belonging to the Hindu community of the village were also ransacked.
VHP demands probe
According to the 2011 federal census, about 8.5 percent of Bangladesh's 149 million population practice Hinduism. A large number of Hindu community people live in Khulna district. Here 16 per cent people follow Hinduism which is higher than the national average. The incident has fueled outrage in India as well. Vishwa Hindu Parishad has demanded an inquiry against those who carried out the attack.